UAE Death Verdict
Govt assures full legal assistance
New Delhi, April 3
India today said it would provide full assistance to the 17 Indians on death row in UAE for killing a Pakistani national, saying an appeal would be made in a higher court in Sharjah within two weeks of the lower court order in the case.

IIM-C fees up by 50%
Kolkata, April 3
Premier management institute Indian Institute of Management-Calcutta (IIM-C) has decided to raise fees for its flagship two-year post-graduate diploma in management programme by 50 per cent from Rs 9 lakh to Rs 13.5 lakh from the current session (2010-12).

Bapu inspired me, says Dalai Lama
'Ahimsa, compassion can remove all bitterness and negativities'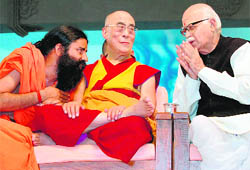 Haridwar, April 3
"By means of ahimsa and compassion, we can remove all negativities in our society and minds," said Tibetan guru and His Holiness Dalai Lama while speaking at a conglomeration of religious, spiritual and political leaders here today.

Tibetan spiritual leader the Dalai Lama, yoga guru Swami Ramdev and BJP senior leader LK Advani at a function in Haridwar on Saturday. A Tribune photograph

Don't issue stapled visas to Kashmiris, China told
New Delhi, April 3
Ahead of External Affairs Minister SM Krishna's visit to Beijing from Monday, India asked China to stop the practice of issuing stapled visas to Indian nationals from Jammu and Kashmir, saying Beijing should be sensitive to New Delhi's "core concern" on this issue of India's territorial sovereignty.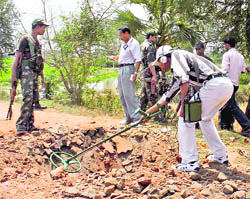 Bomb disposal squad inspects the spot after a landmine blast at Bamal in West Midnapore district on Saturday. — PTI
Anti-Sikh Riots
4,274 cases of enhanced relief still pending
New Delhi, April 3
Twenty-six years after the 1984 anti-Sikh riots scarred the souls of the minority community, it turns out that about 4,274 claims for enhanced compensation to victims of the carnage are still pending with different state governments.
Pirates free one of 8 Indian boats
Ahmedabad/New Delhi, April 3
A week after seizing eight Indian vessels with about 100 sailors on board, Somalian pirates have released one of the boats, Krishna Jyot, along with 15 people on board.
Ready to continue talks with Pak, says India
New Delhi, April 3
India today said it was willing to carry forward the process of foreign secretary-level talks with Pakistan while emphasising that it had not heard anything on this score from Islamabad.
India not under US pressure on Iran
New Delhi, April 3
India is trying to keep its ties with Iran on track, notwithstanding the American pressure on it for not going ahead with transactions on the gas pipeline with Tehran.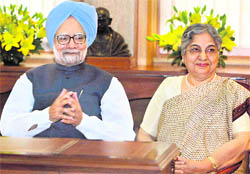 PM enumerated for Census 2011
New Delhi, April 3
Prime Minister Manmohan Singh was today enumerated for Census 2011 and he said the data from this massive exercise will be a 'treasure house' of information to help the government plan its development work.

Prime Minister Manmohan Singh and his wife Gursharan Kaur give their family details to census officials during the first phase of Census 2011, in New Delhi on Saturday. — PTI


Amrik Singh Punni passes away
Ludhiana, April 3
Amrik Singh Punni (73), Former Chief Secretary and a noted Punjabi writer, passed away following illness at DMC Hospital here this evening. Born in 1937 in Jindowal village in Nawanshehar (Shaheed Bhagat Singh Nagar), he was a 1962-batch IAS officer. He served as Deputy Commissioner (DC) at various districts of the state and later retired as Chief Secretary of Punjab in 1996.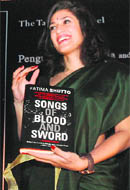 My blood froze when Zardari became Prez: Fatima Bhutto
New Delhi, April 3
Fatima Bhutto, niece of slain former Pakistani Prime Minister Benazir Bhutto, says her "blood froze" on the day Asif Ali Zardari became the country's President and prompted her to send away her younger brother from the country fearing for his safety. Zardari was accused of plotting the murder of Fatima's father Murtaza Bhutto but had been acquitted of the charge.


Fatima Bhutto with her book in New Delhi on Saturday. Tribune photo: Mukesh Aggarwal

Rajasthan ministers, MLAs get pay hike
Jaipur, April 3
With the state Assembly passing a Bill raising the salary and perks of all the elected representatives, the Chief Minister, his Cabinet colleagues and all the MLAs are all set to get a salary hike.
SC chides Centre for ignoring big issues
New Delhi, April 3
The Supreme Court recently vent its ire on the Centre for filing appeals in trivial cases such as those involving sanction of an increment or two, but ignoring constitutional matters and important social issues like gay rights.
Pune Gangrape
Main accused in police net
Pune, April 3
The main accused in the gangrape case involving a 25-year-old married woman has been arrested, the police said today.