Inter-district Recruitment
Bill tabled after day-long drama
Jammu, April 5
Ending a week-long suspense, the government today introduced a controversial Bill, seeking ban on inter-district recruitment, in the Legislative Assembly amidst sloganeering and pandemonium by Jammu-based parties.
Assembly
10 Bills passed
Jammu, April 5
Ten bills, including one to provide more powers to protect women from domestic violence, were passed in the Legislative Assembly today. These bills were earlier introduced in the Assembly and today passed after discussions and some minor amendments.


20 hurt during refugee front's protest
Jammu, April 5
Twenty members of the J&K PoK Refugee Front were injured when the police resorted to a lathi- charge to thwart their attempt to gherao the Civil Secretariat complex here today. The protesters were demanding a rehabilitation policy for the refugees of Pakistan occupied Kashmir (PoK).
Policemen use water cannons on protesters belonging to the J&K PoK Refugees Front in Jammu on Monday. Photo: Inderjeet Singh
Governor calls for quality research
Jammu, April 5
Governor NN Vohra has stressed the need for making the Institute of Kashmir Studies a vibrant centre of excellence for undertaking quality research on social, cultural, historical and other aspects of contemporary relevance. Vohra was chairing the governing body meeting of the institute at Raj Bhavan here today.
Another exam, another faux pas
Class XII English-B paper full of grammatical errors
Jammu, April 5
After paper leak, now the English paper-B of Class XII had grammatical mistakes, thereby raising a question mark over the functioning of the state Board of School Education (BOSE).
A few weeks left for exams, admission to ETT courses still on
Jammu, April 5
For securing a degree certificate in Elementary Teachers Training courses (ETT) one need not spend two years as required under the norms. Even a few days before the final exams, aspiring candidates can get enrolled into the institute and get a degree readily.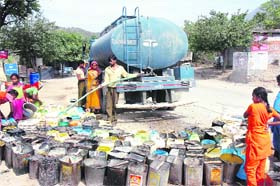 Though the summer is yet to reach its peak, water has become scarce in villages of Reasi district. A tanker gives supplies in a village on Monday. Tribune photo: Anand Sharma
Fewer teachers in govt schools
Doda residents hold protest
Jammu, April 5
Agitated over the poor functioning of government schools, residents of Gandoh tehsil of Doda district protested in front of the office of zonal education officer today. Besides students, parents and general public, the protest was also joined by activists of a social organisation, J&K Milchar Front.
Talks only way to resolve Kashmir issue, says minister
Srinagar, April 5
The Minister for Rural Development and Panchayats, Ali Mohammad Sagar, today said the Kashmir issue could only be solved through negotiations. Sagar was speaking at a public meeting in Palhalan after inaugurating a model village.
NC MLCs stage walkout over Urdu's neglect
Jammu, April 5
Causing embarrassment to the ruling National Conference (NC)-Congress alliance in the state, NC MLCs today staged a walkout from the Upper House after they entered into a verbal duel with Tourism Minister Nawang Rigzin Jora over neglect of Urdu language in the state.
3 boys killed as minibus falls into gorge
Jammu, April 5
Three boys were killed and nearly 40 other passengers injured when an overcrowded minibus, after a head-on collision with a tanker, skidded off the road and plunged into a gorge at Dhani Dhar village in Rajouri district today, the police said.
Attack on Cong leader's house
Hizbul militant killed in Pulwama
Srinagar, April 5
A Hizbul Mujahideen militant was killed and another injured when militants late last night attacked the house of a senior Congress leader in Rohama village in Pulwama district. According to information, the militants came to the house of Abdul Gani Dar, district Congress president, at Rohama village.
2 held with poppy
Jammu, April 5
The police today claimed to have seized 125-kg poppy husk from a truck and arrested two persons of Uttar Pradesh at Domail here. It said a trap was laid at Domail and a truck coming from Srinagar was seized with the narcotics.