World Health Day
WHO campaign: State unaware or passive?
Amaninder Pal
Tribune News Service
Jalandhar, April 7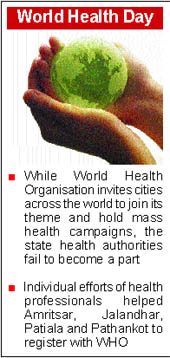 On the occasion of World Health Day, the World Health Organisation (WHO) introduced the theme "1000 cities, 1000 lives" and invited 1000 cities across the world to get associated with the organisation and hold mass campaigns, open up streets for health activities and highlighting ill-effects of urbanisation this year.
Although World Health Day is about to pass, 'much engaged' state health authorities have failed to become a part of this global campaign.
Though, registration process, in order to become a part of the campaign, is just a few clicks away on the official website of WHO, the health authorities in not even a single city in the state bothered to get the cities registered.
In spite of the existing network of thousands of health department employees, NGOs and health activities, only four cities --- Amritsar, Jalandhar, Patiala and Pathankot --- have been registered with WHO so far, that too with the individual efforts of health professionals. As many as 840 cities across the world have already registered with the WHO.
Keeping in account that 50 per cent of total world population is living in the cities, the WHO devised that organisers in registered cities should conduct 10 km long walk, which include eminent personalities of city. Keeping in view the rapidly decreasing breathing space, it was suggested that at least one road in city should be declared as "walking plaza" or "no traffic zone".
Creating 10 km long cycling paths, posters campaigns, sanitation drives, road shows, and holding symposiums, workshops on ill effects of urbanisation on health was also part of this year's theme.
"Sole purpose of such slogans and themes is to create mass awareness through mass movements. Though state health authorities are not accountable to WHO for not becoming part of this campaign, we cannot generate mass movements on health front without the involvement of government infrastructure in such initiatives", Dr Sanjeev Sharma, who registered Jalandhar with WHO.
"Not being registered means, either we are not agreeing with the theme or simply don't know anything about it. In gross, it reflects that finally, we are not part of this campaign", said one senior doctor.
Even organisations like the Indian Medical Association, which boasts of its 5500 members across state, failed to take the initiative.
Admitting the delay, state IMA President Dr R.S. Parmar said, "We have not passed any circular to our district units about registration. However, we will do it very soon." State Health Minister Laxmi Kanta Chawla and Director Health Services S.P. Sohal could not be contacted despite repeated attempts.