World Cup Kabaddi 2010

All set for Kabaddi Maha Kumbh
Organisers expect over 75,000 spectators to witness penultimate fights today
Sudhanshu Verma
Tribune News Service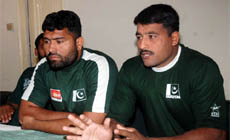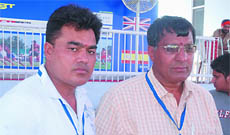 (Above) Captain of the Pakistan Kabaddi team Imtiaz Alam interacts with the media in Bathinda on Friday. (Below) Coach of the Indian team Balbir Singh and Harpreet Singh Bawa. Tribune photos: Pawan Sharma
Bathinda, April 9
Stage has been set at the Sports Stadium here for the four top kabaddi teams of the globe to take on each other for securing their berths in the finals of the World Cup Kabaddi, Punjab - 2010. The semis for the coveted title would be played here tomorrow in the evening.
Over 75,000 spectators – as claimed by the organisers – are expected to witness the fights for the berth in finals of the tourney on Saturday when Pool A winners India will take on Pool B runners-up Canada while Pool B winners Pakistan will face Pool A runners-up Italy.
Vice-chairman of the organising committee of the championship Sikander Singh Maluka, while talking to The Tribune today, claimed that over lakh kabaddi buffs were expected in the stadium tomorrow and preparations to make their viewing- experience a pleasant one were almost in place. He said large number of women, also from the rural areas of the region, was likely to witness the matches.
Maluka said that functions would begin abound 1.30 pm with cultural programmes that would include mainly folk songs and dances of Punjab. He disclosed that a kabaddi match between Sikh kids would not only be one of the attractions of the functions, but would also set the tone for the actual fights. In the first semi-final, which will begin around 3 pm, Pakistan will meet Italy while India will play against Canada in the second match, he added.
The entire stadium has been decked up and the areas around it have also been given a festive look. The gallery have been covered to provide spectators some respite from the scorching heat.
As far as the ground is concerned, the Sports Stadium here is considered as one of the best in Punjab and the lush green grass is just inviting the players to perform.
Deputy Chief Minister Sukhbir Singh Badal will be the chief guest on the occasion and Bathinda MP Harsimrat Kaur Badal, Faridkot MP Paramjit Kaur Gulsan and others would also be among the guests.
The Punjab Kabaddi Association would also hold a langar to mark the occasion.
Members of the four semi-finalists have reached Bathinda and have been chalking out their strategies to ensure their victory at different hotels in the city.
To provide spectators with an opportunity for a closure look of the proceedings, temporary wooden platforms have also been installed. A section of organisers, however, believe that some last minutes changes might be expected in terms of sitting arrangements to make room for more people while some also expressed apprehension about stadium capacity to accommodate such a huge crowd and also about the capacity of wooden platform to bear the weight of large crowd.