Strong and steady
Land prices in Malerkotla have appreciated considerably since 2005, reports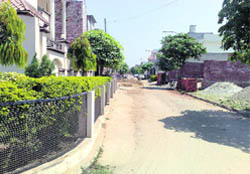 Malerkotla — known for its beautiful embroidered footwear, insignia and badge-making units — may not be like the other bustling industrial towns of Punjab, but it is not a dormant place as far as the realty sector is concerned. It was one of the few places in the state, which had remained unscathed while communal fire singed the whole of Punjab during the Partition time in 1947.

View of an approved colony in Malerkotla.
Village with a view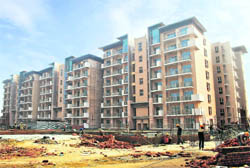 Spread over 27 acres, the Commonwealth Games Village (CWGV) is located adjacent to the Akshardham temple, and is minutes away from Connaught Place. Almost 73 per cent of the total area is devoted to green spaces that would be lined up with more than 2,100 trees and shrubs, waterbodies, sporting facilities and boulevards. The CWGV will be a green-rated building under Teri's 'Griha' parameters, with roof insulation and solar hot water and solar lighting facilities. With such amenities, visiting delegates have benchmarked the CWGV against the Beijing Olympics Village and some have termed it to be even better.
Vaastu decoded
Gateway to success
The most well kept room in the house is the front room. Guests are received in this room and members of the house spend the majority of their time here. If lants lying in the shade tend to move towards light, can man be very different? After a good night's sleep, it is natural to want to sit in an airy and well-lit front room.
realTY BYTES
New township

New Delhi: Ashiana Housing and Manglam Builders have come together to introduce Rangoli Gardens in Jaipur. Nestled in the lap of nature, it is located just a stone's throw away from the heart of Jaipur. It is spread over 25 acres and truly represents garden living with 8.5 acres of parks within the complex. The township endeavours to blend nature with state-of-the-art lifestyle to give its residents with the best facilities of luxuries and comforts. The buildings will be earthquake resistant.
TAX TIPS
S.C. Vasudeva
The writer can be contacted at sc@scvasudeva.com

n Rental income
n Compensation amount
n Tax-saving bonds
n Defining agricultural land
n Tax on insurance claim
GREEN HOUSE
Summer beauties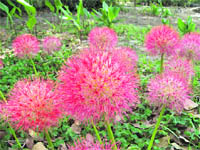 Flower lovers are disheartened at this time of the year to see the winter blooms wither With the summer sun blazing threateningly in the sky, the hopes of seeing colour in flower beds seem to evaporate as one prepares to wait for over six months to enjoy the colours of winter blooms once again. The usual perception is that there is hardly any variety in summer annuals and thus there is no option but to wait for winters.
Heliconia in full bloom (left) Football lily can add a dash of colour to flowerbeds in summer months
Fortnightly Alert
The temperature is rising with each passing day. The plants need plenty of water. But that does not mean you can do so at any time of the day. Let the watering be either very early in the morning or late in the evening. Giving water when the soil is hot is dangerous and could be injurious for plants, especially for those that have a superficial root system. Do not also attempt to do syringing (spraying water on leaves) in the late morning hours as any droplet left on leaves will act as a magnifying glass that will cause spot burning on the leaf.