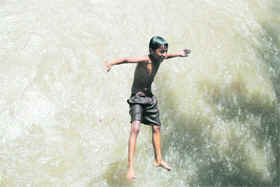 A boy jumps into the Ranbir Canal in Jammu on Sunday to beat the scorching heat. Photo: Inderjeet Singh

No end to patients' miseries
Srinagar, April 11
Even as patients continue to suffer because of the closure of OPDs due to the strike of employees, the government claims that more than 16000 patients have been treated in various hospitals across the Kashmir valley.
Annual Maize Workshop
Pool expertise to boost maize production: Vohra
Srinagar, April 11
Governor NN Vohra today called upon agriculture scientists to pool their expertise and optimally utilise research outcomes and the latest technology to boost per acre yield of maize and significantly enhance production. "The success of such an effort would transform the economic situation and provide financial stability to the farming community", he said.
A peep into complexities of thought process
Jammu, April 11
In its weekly Sunday Theatre series, the Natrang Studio Theatre today staged a Hindi play 'Barsat Ki Raat' based on a short story by Chirnjeev. Balwant Thakur directed the play.
Kashmiri Pandits protest against Centre, state govt
Jammu, April 11
The Panun Kashmir led by Dr Agnishekhar today organised a protest rally against the alleged callous and apathetic attitude of the Centre and the state government towards the sufferings of displaced Kashmiri Pandits.
Over 2,700 take IIT exam
Jammu, April 11
Over 2,700 Indian Institute of Technology (IIT) aspirants of Jammu division today took the Joint Entrance Examination at six centres here. Most of the students wished that the Board of School Education (BOSE) should conduct the Class 12 exams two weeks before the competitive test.
Gujjars seek Primitive Tribal Groups status
Jammu, April 11
Demanding bifurcation of their share from other Scheduled Tribe (ST) communities, Gujjars and Bakerwals today insisted that their community must be categorised under Primitive Tribal Groups of India, with a separate share out of total 10 per cent reservation available to 12 ST groups in the state. The Tribal Research and Cultural Foundation strongly urged that the Gujjars and the Bakerwals should be fortified with separate rights and extra constitutional safeguards in the state, as they were feeling suffocated and neglected under the ST category.
Recruitment Bill divides Gujjars-Bakerwals
Jammu, April 11
The passing of the Inter-District Recruitment Bill with some amendments has created a divide among Gujjars- Bakerwals as some leaders of this Scheduled Tribe (STs) community have termed the Bill as anti-ST while ministers belonging to the community have hailed it.
Water supply to be augmented: Bhalla
Jammu, April 11
Minister for Revenue, Relief and Rehabilitation, Raman Bhalla said the coalition government was fully aware of people's problems and priority was being given to improve basic amenities like the augmentation of the water and power supply, besides provision of better healthcare, road connectivity and imparting of quality education to students in every nook and corner of the state.
'All parties should find out solution to agitation'
Jammu, April 11
The Jammu and Kashmir Awami National Conference today criticised the state government for "failing" to fulfil its commitments towards the demands of employees and asked political parties to work out a solution acceptable to both the parties.
Minister for united efforts to bring social reforms
Jammu, April 11
Minister for Health, Horticulture and Floriculture Sham Lal Sharma today stressed upon the NGOs, social organisations and religious organisations to make collective efforts in bringing social reforms by eradicating evils and keep society free from crime and drug.
Ladakh front starts dharna for UT status
Leh, April 11
A three-day-long dharna by activists of the Ladakh Union Territory Front (LUTF) in support of their demand for Union Territory (UT) status for the Ladakh region started here today.