Additional ration quota for state to continue
Jammu, April 15
Responding to the state's request, the Union Government has agreed to continue 33,000 metric tonnes per month of foodgrains quota to Jammu and Kashmir under the Open Market Scheme Domestic (OMSD) category to tide over its increased demand due to continued drought and 100 per cent takeoff of foodgrains from the government ration depots.
CM's grievances cell disposed of 7,848 cases since inception
Jammu, April 15
Adviser to Chief Minister Mubarak Gul has called upon government functionaries to work with utmost dedication for the early redressal of the problems and development needs of the people.
Intense heat in Jammu, light showers likely in two days
Jammu, April 15
The city which has been reeling under an intense heat for the past two days may witness light showers in the next few days due to western disturbances , according to the Indian Meteorological (Met) Department.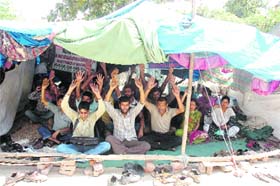 Members of the J&K Home Guards Association stage a dharna in support of their demands in Jammu on Thursday. Photo: Inderjeet Singh
Seven officers shifted
Jammu, April 15
The state government transfered seven officers with immediate effect today.Tassaduq Jeelani, Chief Executive Officer, Tourism Development Authority, Sonamarg, has been transferred and posted as Chief Executive Officer, Urban Development Agency, Kashmir, in place of Bashir Ahmad Sofi, who has been posted as Deputy Director, Local Bodies, Kashmir.
Govt befooling people: PDP
Jammu, April 15
Charging the Congress-NC government with adopting anti-people policies, the PDP said today that it had compounded the woes of the people due to its wrong policies during the last 16 months.
Jails must be under civilian control: IG
Srinagar, April 15
A three-day training programme for prison officers on "Human Rights and Prison Management" organised by the Academic Staff College of the University of Kashmir, in collaboration with the regional branch of the IIPA, began here today.
Togadia to visit Jammu tomorrow
Jammu, April 15
The Vishwa Hindu Parishad leader, Praveen Togadia, known for his fiery speeches, would be visiting Jammu from April 17 to April 19.
Usha Vohra felicitates sitarist Savita Bakshi
Jammu, April 15
First Lady Usha Vohra felicitated well-known sitarist and additional secretary of the Jammu and Kashmir Academy of Art, Culture and Languages, Savita Bakshi, at a function organised by the Nami Dogri Sanstha - The Art Foundation- at KL Saigal Hall here today.
Hideout busted in Kishtwar
Jammu, April 15
The security forces last evening busted a hideout of militants in a jungle in Kishtwar district and recovered arms and ammunition.
Centre neglecting state, alleges revolutionary movement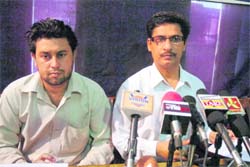 Jammu, April 15
The Peoples' Revolutionary Movement (PRM) today criticised the Central Government for 'neglecting' and snatching the 'rightful due' of the people of the state.According to a statement issued here, PRM leader Rajinder Jamwal said the Central leadership, including the ruling party, had always neglected and undermined the state.

Members of the People's Revolutionary Movement address mediapersons in Jammu on Thursday. A Tribune photograph
Tributes paid to Ambedkar
Jammu, April 15
Employees of the Northern Region Transmission System-II of the Power Grid Corporation of India Limited paid tributes to Dr BR Ambedkar on his birth Anniversary at Naveen Shiksha Kendra High School at Channi Himmat here on Wednesday. SK Sharma, General Manager (Projects) of PowerGrid, was the chief guest on the occasion.