Now, Iran hosts meet on N-disarmament
Two-day event will be attended by 50 nations, including India, Russia & China
Ashok Tuteja in Tehran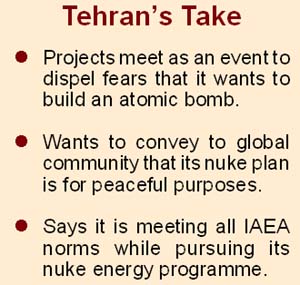 Under mounting global pressure to abandon its controversial nuclear programme, Iran hosts a two-day international conference here on Saturday on nuclear disarmament in a move clearly aimed at countering the high-profile Nuclear Security Summit convened by US President Barack Obama in Washington earlier this week.
Faced with threats of crippling UN sanctions, Iran is projecting the meet as an event to dispel western fears that it wants to build an atomic bomb and convey to the international community that its nuclear programme is for peaceful purposes.
In addition to Russia and China, both members of the UN Security Council, representatives from India and nearly 50 other countries are expected to attend the conference, dubbed Nuclear Energy for All, Nuclear Weapons for None.
Both Russia and China have resisted US-led efforts to impose new UN sanctions on Iran arguing that they would affect the common people at large and serve no purpose in dealing with the Islamic Republic over its disputed nuclear programme. They are insisting on further negotiations. China depends on oil and gas-rich Iran for 11 per cent of its energy needs and last year became Tehran's biggest trading partner.
Although India has repeatedly stated that it does not want another nuclear weapons state in its neighbourhood, it has also opposed fresh sanctions against Iran. New Delhi's stand on the Iran issue was as recently as last Sunday conveyed unequivocally by Prime Minister Manmohan Singh to President Obama at their meeting in Washington.
The Iranians have appreciated the stand taken by New Delhi although they were cut up with India for voting against the Islamic Republic thrice in the past at the IAEA.
From the Indian side, the conference in Iran will be attended by Indian Ambassador to Iran Sanjay Singh and a senior official of the External Affairs Ministry. Iran had also invited former President APJ Abdul Kalam to attend the meeting. He appreciated Iran's plan to organise the meet but expressed his inability to attend it due to prior commitments.
In a statement released on the eve of the conference, Iranian Foreign Minister Manouchehr Mottaki asserted that Tehran was meeting all its international obligations under the IAEA norms while pursuing its nuclear energy programme. He said his country was approaching the upcoming NPT Review Conference also with a positive mind. ''The NPT was formed around three main pillars, namely nuclear disarmament, peaceful uses of nuclear energy and non-proliferation of nuclear weapons. What happens to these three pillars,'' he asked.
Mottaki contended that due to "unjust, self-centred, discriminative and selective approaches of the nuclear weapons states, the balance between three main objectives of the NPT had been totally defeated".
The US and some of its allies have accused Iran of using its civilian nuclear programme as a cover to develop nuclear weapons. Iran has denied the charges, saying its nuclear programme was geared toward generating electricity, not bomb.
Iran's chief nuclear negotiator Saeed Jalili was quoted as saying in the Iranian media that that the Tehran conference would advocate genuine nuclear disarmament and call upon nuclear weapons states to disarm themselves before preaching to the world. "'Iran has no nuclear military agenda... our nuclear programme is aimed at meeting our civil nuclear energy requirements."