Killer stretch continues to snuff out lives
Kharar, April 17
Christened "killer stretch", the NH-21 Kharar-Chandigarh stretch, on which a woman lost her life yesterday, continues to snuff out lives.


NIPER, too, speaks up
Mohali, April 17
The National Institute of Pharmaceutical Education and Research (NIPER), a premier research institute, has once again raised its voice against the polluted N-Choe, flowing adjacent to the campus boundaries. The N-Choe meanders its way through the campus of NIPER.
Power situation worsens in city
Sector 17, Industrial Area, southern sectors feel the heat
Chandigarh, April 17
With mercury heading north, areas across the city today faced power cuts ranging from one to three hours following demand and supply gap.
Mercury at 30-year high
Shoots up to 42.6 °C
Chandigarh, April 17
The city continued to sizzle today with the mercury shooting up to 42.6 degree celsius (°C), the highest one till date since 1980. The Met office said there was no respite in sight from the heat with the mercury likely to touch 44 °C in a couple of days.
Is heat getting to your skin?
Chandigarh, April 17
With the mercury soaring by the day, hitting almost 42 degree Celcius (°C) in mid April, the heat is not only getting on the nerves but literally on the skin too. Like sunglasses, itchy rashes, and sunburns, particularly on the face and exposed body parts, are becoming common.
Being a cop isn't exciting for Punjabis
In contrast, Haryana youth are more than willing to join the force
Chandigarh, April 17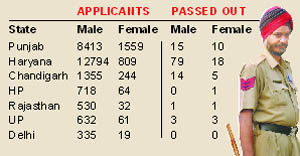 Greener pastures abroad, drug-addiction, rising land prices and change in lifestyle are some of the factors apparently dissuading Punjabi youth from joining the police. Statistics available with the Chandigarh Police on the recruitment of the 11th batch of constables reveal that out of the total 8,413 male applicants from Punjab, only 15 met the selection criteria and joined the force.
'Understanding history can solve conflicts'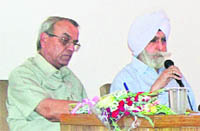 Chandigarh, April 17
"The past 62 years of Independence have been years of uncertainty. There has been no certainty about our progress, policy and direction. And chances are that is the way it is going to be in the years to come," said former Punjab DGP KPS Gill here today.

Former Punjab DGP KPS Gill during a seminar at Panjab University on Thursday. A Tribune photograph
BJP demands white paper from Congress
Development of Township
Panchkula, April 17
The Congress government's claim of spending Rs 500 crore for the development of township has come under a cloud as the BJP yesterday joined with the INLD contesting the claim of the ruling party.
Dhawan's Entry
Double-edged sword for BJP?
Chandigarh, April 17
The entry of Chandigarh's permanent turncoat and former Union Minister Harmohan Dhawan into the BJP is set to kick off a storm in the local political circles ahead of the 2011 Municipal Corporation of Chandigarh elections.
Pet care centre to train dogs
Panchkula, April 17
Dog lovers in the region have a reason to smile. Pet Animal Medical Centre-cum-Teaching Hospital is all set to provide training to pet dogs in the tricity. A team of master trainers will soon be in place after being trained by a trainer who is a retired Army soldier.
MC forms enforcement team
Chandigarh, April 17
Learning lessons from the past experiences of major fire mishaps in the congested rehri markets of the city, the Chandigarh Municipal Corporation has constituted a special enforcement team to keep a tab on encroachments in these markets.
Abducted girl recovered
Panchkula, April 17
The police has arrested one person for kidnapping a minor girl about a month ago from the Mansa Devi Market area.
Van donated to cancer society
Chandigarh, April 17
The State Bank of India donated a van to the Global Cancer Concern India, a society working for the cause of cancer sufferers, here on Tuesday.
PU: Task force may suggest raising retirement age
Chandigarh, April 17
In addition to recommending major funding for the PU, the Special Task Force is expected to also recommend an increase in the retirement age from 60 to 65 years, along with a solution to the depleting pension pool. A report is likely to be submitted to the union government on April 30.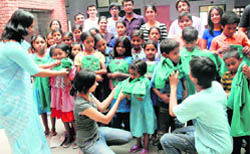 Slum children wear T-shirts donated by the Global Environment Concern at
Government High School, Colony No. 4, Chandigarh. Tribune photo: Manoj Mahajan
Education dept to act tough with teachers
Chandigarh, April 17
Principals of government colleges would now be accountable and face action along with teachers who are found taking private tuitions. In a bid to tighten the noose on various government lecturers, who engage in such activity, the UT department of higher education has asked all government college principals to conduct an internal inquiry and initiate action against the defaulters.
YPS boy dies after asthma attack
Mohali, April 17


A 16-year-old promising cricketer and student of YPS, Amanpreet Singh, died of an asthmatic attack at Patiala last night. The victim, a student of Class X, had gone to Patiala to participate in a cricket tournament. Soon after dinner, he complained of uneasiness and collapsed within seconds. Neither the school authorities nor the victim's family has complained of any foul play. A few hours before the incident, Amanpreet had called up his father, Manjeet Singh, a former Mohali MC councillor, to say that they had won two matches.
Amanpreet Singh