Girls use umbrellas to protect themselves from the rain, at Lal Chowk in Srinagar on Sunday. — PTI

Cong infighting becomes murkier
Pro-Azad faction demands sacking of minister
Jammu, April 18
The ongoing infighting in the state Congress took an ugly turn today when a faction, which owns its allegiance with Union Health Minister Ghulam Nabi Azad, demanded sacking of Minister of Sports and Medical Education RS Chib for passing "derogatory" remarks against "loyal" party workers.
Sikhs throng border village to celebrate Baisakhi
Uri, April 18
Situated near the Line of Control (LoC) between India and Pakistan in the Uri sector, the frontier village of Param Pilan today turned lively after thousands of Sikhs gathered here to participate the annual Baisakhi fair.
Peace imperative for development: Mehbooba


Srinagar, April 18
Mehbooba Mufti, PDP president and MLA, Wachi, said today that lasting peace was imperative for the development and progress of the state. Addressing a workers' meeting at Nagbal in the Wachi Assembly segment, Mehbooba said the PDP had pioneered an agenda of peace and development.
Appointment of Central Varsity VC
JSM concerned over delay
Jammu, April 18
Expressing concern over delay in the appointment of Vice-Chancellor of Jammu Central University, the Jammu State Morcha (JSM) today demanded that the appointment should be made as early as possible.
Kupwara 'Encounter'
FIR against Armymen
Srinagar, April 18
The police has registered an FIR against troops of the 6 RR in connection with the killing of 70-year-old Habibullah Khan in an 'encounter' in Rainwari forests of Kupwara district a few days ago.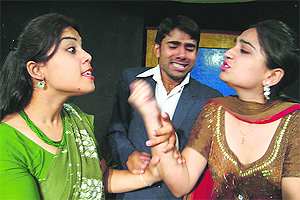 A scene from a play, "Jaise Ko Taisa", staged at the Sunday Theatre in Jammu. A Tribune photograph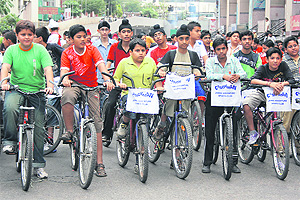 Children take part in a rally organised by the Jammu Adventure Sports Club in Jammu on Sunday. Photo: Inderjeet Singh

1 held for harassing girl over phone
The accused used to purchase SIM cards through fake documents
Jammu, April 18
Acting on the complaint of a girl, the police today arrested one person for allegedly harassing the victim over phone for the past few days. However, another accused is absconding.
Maintain record, Rather directs treasury officers
Jammu, April 18
Minister for Finance Abdul Rahim Rather has directed treasury officers to work with missionary zeal and dedication and maintain a record of allotment of funds in respect of each Drawing and Disbursing Officer (DDO) to keep watch over the drawls made by the DDOs vis-a-vis the allotments made.
Fire at substation disrupts power supply
Jammu, April 18
Electricity supply was snapped to Janipur locality for at least five hours after the 33/11 KV sub-receiving station at Janipur power house caught fire today.
Erratic cellphone services irk residents
Srinagar, April 18
Subscribers of various cellphone companies, especially BSNL, today expressed resentment against erratic services provided by the company. They faced problems in making and receiving calls and could not even send or receive SMSes. The problem was attributed to congestion in the network.
Security in Jammu region reviewed
Jammu, April 18
Ahead of the Durbar move, the state's security adviser and GOC of the 16 Corps, Lt-Gen Rameshwar Roy, reviewed security in the Jammu region at a core group meeting at Nagrota, near here,yesterday.
Stone of girls' hostel laid
Jammu, April 18
Dr S Ayyappan, Director-General of the Indian Council of Agricultural Research (ICAR), laid the foundation stone of a girls hostel on the main campus of the Sher-e-Kashmir University of Agricultural Sciences and Technology (SKUAST), Chatha, here yesterday.
Geelani meets Afzal Guru
Srinagar, April 18
Hurriyat Conference leader Syed Ali Shah Geelani who met Mohammad Afzal Guru, convict in the 2001 Parliament attack case, in Tihar Jail in Delhi, returned here yesterday.
Armyman found dead
Jammu, April 18
Naik Ranjit Singh of Jharkhand and presently posted at Srinagar with Rashtriya Rifles (RR) 24 was found dead under mysterious circumstances at an Army transit camp near Trikuta Nagar here today, the police said.