PUNJAB
HARYANA
JAMMU & KASHMIR
HIMACHAL
REGIONAL BRIEFS
NATION
OPINIONS
LETTERS
BUSINESS
SPORTS
WORLD
M A I N N E W S
Heat wave: April toll 80, wheat output may be hit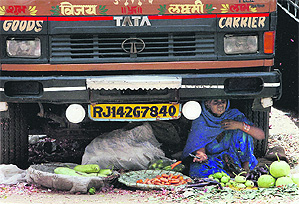 A vendor takes shelter under a truck to shield herself from the scorching sun in New Delhi on Sunday. — PTI

New Delhi, April 18
A severe heat wave sweeping the country, with temperatures of almost 44°, the highest in 52 years, has killed at least 80 persons this month, officials said on Sunday. The scorching weather, which officials say would continue over northern, northwestern and central India in the next 48 hours, also may have some impact on wheat production, exporters and flour-mill associations said.
New Delhi recorded a maximum temperature of 43.7 degrees Celsius on Saturday, presaging a hot summer in the next two months in the nation's capital and other parts of northern and eastern India.
The highest temperature in the past 24 hours was 47° C at Ganganagar in Rajasthan. Summer temperatures have been 4-6 degrees Celsius above normal over most parts of northern and central India since March, weather officials said.
In Orissa, authorities have decided to shut down schools from next Tuesday, advancing the annual summer holiday. Authorities said they were investigating reports of 53 deaths from various parts of the state. "District collectors have been asked to investigate and submit reports on other deaths," Bhimsen Gochhayat, a government official, said. Other deaths were reported from northern state of Uttar Pradesh and central Madhya Pradesh states.
The country is expected to produce around 82 million tonnes (MT) of wheat in 2009/10, but there could be a shortage of 1-1.5 MT due to the heat wave, said Veena Sharma, secretary general of the Roller Flour Millers Federation of India. "Most of the harvesting is over, but there definitely will be a slight shortage of 1-1.5 MT due to the extreme weather conditions," she said.
The country is relying on a bumper wheat crop to make up for a 14.2 percent drop in rice output, the major summer-sown food grain, marred by the worst monsoon in 37 years last year. "The time it (wheat) normally takes to get ripe has been shortened and as a result the size of the grain could be smaller with a marginal effect on production," DP Singh, president of the All India Grain Exporters Association, said on Sunday.
Weather officials say with summer temperatures set to remain above average, there were hopes of heavy rains at the start of the monsoon season that will help early sowing of rice, soybeans and lentils. A senior weather official said he was expecting temperatures to come down a bit next week, bringing some relief in hilly areas, which could experience light rain. — Reuters
Minimum temperature touches 41-year high in Delhi
New Delhi: The relentless summer sun did not spare Delhiites for yet another day on Sunday as the maximum temperature hovered around 43 degree Celsius, slightly lesser than yesterday, while the minimum touched a 41-year-old high crossing 30 degrees. A day after the maximum rose to a 52-year-old high at 43.7 degrees, it dropped to 43 degrees during the day but the minimum rose by 4.1 degrees to touch 30.6 degrees in the morning hours. "The minimum crossed 30 degree Celsius mark in the month of April for the first time since 1969. We have records since 1969 for the higher value of minimum. Never it had touched this high," B P Yadav, Director of Indian Meteorological Department, said. — PTI