PUNJAB
HARYANA
JAMMU & KASHMIR
HIMACHAL
REGIONAL BRIEFS
NATION
OPINIONS
LETTERS
BUSINESS
SPORTS
WORLD
Monday, April 19, 2010, Chandigarh, India
Updated at 3:00 am (IST)

Tharoor quits post & pal Sunanda franchise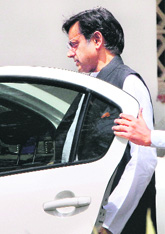 Oppn pressure works, PM accepts resignation
New Delhi, April 18
Under fire from the Opposition and his own party for his involvement with the Kochi IPL franchise, beleaguered Minister of State for External Affairs Shashi Tharoor finally put in his papers late tonight after Prime Minister Manmohan Singh gave him his marching orders.

Shashi Tharoor after meeting the Prime Minister in New Delhi on Sunday. — PTI


Controversial stint

Opposition hails resignation

Politicians, businessmen rig IPL bids: BJP

Editorial: The IPL mess

Nation page: Team Kochi to stay: Modi

CAST YOUR VOTE
Should politicians be allowed to withdraw so-called vendetta cases against MLAs?

EDUCATION
JOBS & CAREERS
HEALTH & FITNESS
SCIENCE & TECHNOLOGY
REAL ESTATE

SPORTS & WELLNESS
Another bomb found, IPL semis moved to Mumbai
Bangalore, April 18
Explosives continued to pop up in Bangalore's Chinnaswamy Stadium with one more bomb and three bags full of ammonium nitrate found by the police from the stadium area today.
Nation page: Blast victims doing fine
Chinese hackers attack Indian Embassy website
Moscow, April 18
The website of the Indian Embassy here has been attacked twice by Chinese hackers, prompting the mission to boost its cyber security.
UNION BUDGET 2010-11
RAILWAY BUDGET
2010-11
NDA 60 Glorious Years
1857 The First Challenge
E - Revolution 2005:
A Two-day IT conclave
Assembly Elections - 2005
Turbans
Chandigarh is 50
125 Years of The Tribune
India: The Tasks Ahead
India at Sixty
A Tribune Supplement
EARLIER FEATURES
On Sundays
On Saturdays
Iran seeks global support for its N-programme
Tehran, April 18
Even as the threat of a fourth round of UN sanction loomed large over it, Iran appeared to have partially succeeded in ending its global isolation on the nuclear issue if one were to draw any conclusion from the two-day international conference on nuclear disarmament which ended in Tehran tonight.
Heat wave: April toll 80, wheat output may be hit
New Delhi, April 18
A severe heat wave sweeping the country, with temperatures of almost 44°, the highest in 52 years, has killed at least 80 persons this month, officials said on Sunday.
Minimum temperature touches 41-year high in Delhi
Gujarat Riots
SIT to question Togadia today
Ahmedabad, April 18
The Supreme Court-appointed Special Investigation Team (SIT) has summoned Vishwa Hindu Parishad (VHP) international general secretary Praveen Togadia to appear before it tomorrow, for questioning in connection with the 2002 post-Godhra riot cases.
PARLIAMENT CANTEENS: Subsidised & how!
Here, a happy-price menu, always
New Delhi, April 18
A meal of rice and mutton curry for as little as Rs 22 and idli sambar for Rs 1.50! And that too in air-conditioned comfort and hygienic conditions! Also, within walking distance of Connaught Place (CP) or officially Rajiv Gandhi Chowk! Sounds incredible, but it's true.
Just before IPL match, blasts in Bangalore
April 18, 2010

BRIC wants greater role for India, Brazil in UNSC
April 17, 2010


Finally, PSEB is history
April 16, 2010


PM: Talks with Pak only after action against 26/11 culprits
April 15, 2010
Zero-tolerance for illicit N-trade: PM
April 14, 2010
India to set up global nuclear centre
April 13, 2010
Obama's high-wire act to prevent nuclear terror
April 12, 2010
Polish Prez, wife among 97 killed in air crash
April 11, 2010
Buck stops at my desk: Chidambaram
April 10, 2010
US, Russia ink pact to cut N-arsenal
April 9, 2010