PUNJAB
HARYANA
JAMMU & KASHMIR
HIMACHAL
REGIONAL BRIEFS
NATION
OPINIONS
LETTERS
BUSINESS
SPORTS
WORLD
Every Wednesday & Saturday
Tea with The Tribune
'Cong is against divisive policies'
Ashok Kumar, Ramban MLA, and a government teacher-turned-politician, is the only member in the state Assembly who belongs to the Scheduled Caste category.




MLA Ashok Kumar in conversation with members of The Tribune team in Jammu. Tribune photos: Anand Sharma
AFSPA should stay in present form, plead security experts
Jammu, April 16
While Army chief Gen VK Singh's remarks on government's proposed move to amend the Armed Forces' Special Powers Act (AFSPA) would definitely invite the "ire" of Kashmir-centric political outfits in terrorism-plagued Jammu and Kashmir, security experts, including former DGP MM Khajooria, have endorsed the former's viewpoint.
Heritage sites face neglect
Jammu, April 16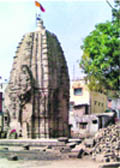 Come April 18, the annual ritual of celebrating the World Heritage Day will customarily be followed here by reminding the people of their glorious past. However, the enthusiasm associated with the day vanishes soon as majestic monuments and heritage sites in the state continue to remain in a shambles for the next 12 months.
A view of Shiva Temple at Billawar, surrounded by houses. Photo by the writer
Srinagar diary
Facelift ahead of Darbar move
With only three weeks left for Darbar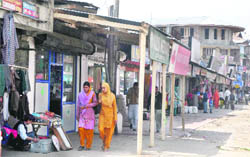 move from Jammu to this summer capital, the main roads in the heart of the city are getting a facelift. A beautification plan was started for central Lal Chowk a couple of months earlier (See photo).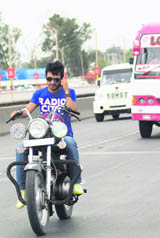 Unmindful of personal safety, this motorist is busy conversing on his mobile phone on a busy road in Jammu. Photo: Inderjeet Singh
Crops lost third time, courtesy scanty rain
April 14, 2010
Restive employees in no mood to relent
April 10, 2010
Oppn cries foul as civic poll postponed
April 7, 2010
Hindus, Muslims pray together here
April 3, 2010
Mafia continues to gobble up govt land
March 31, 2010
Kashmir too faces heat
March 27, 2010
Proposed policy stirs debate
March 24, 2010
BPL tally up four times in 5 years
March 20, 2010
Inter-district recruitments create Cong-NC divide
March 17, 2010
Severe water crisis stares Kandi areas in the face
March 13, 2010
Staff shortage hits NREGA scheme
March 10, 2010