Every Wednesday & Saturday
Global warming
Kashmir too faces heat
Srinagar, March 26
The valley of Kashmir is known as the paradise on Earth for its lushgreen meadows, sprawling forests, waterfalls, cool breeze and snow-covered mountains. But all this would soon be a thing of past as the phenomenon of global warming is showing its impact on the valley.
Awaiting pension, widow finds it hard to sustain
Jammu, March 26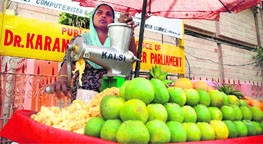 At a stone's throw distance from the civil secretariat, Suma Devi-(45) sells fruit juice in front of Gulab Bhawan to meet two square meals.
Suma Devi sells fruit juice in front of Gulab Bhawan in Jammu. Photo: Inderjeet Singh

Tea with The Tribune
Abdul Rashid, MLA
'Govt must talk to Kashmiris at grass-roots level'
In a tete-a-tete with The Tribune team, Abdul Rashid Engineer, Independent MLA from the Langate Assembly constituency in Kupwara district, shares his thoughts