COLUMNS

THIS ABOVE ALL
TELEPROMPT
GOOD MOTORING
LIFE'S LESSONS

FOR CHILDREN

CROSSWORD
ROOTS
RHYME TIME

Earlier Feature
TELEVISTA

AUDIO SCAN
Joining
The blogwagon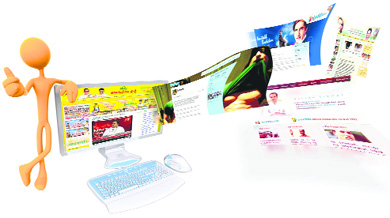 The medium of blogging is fast picking up and bridging the gap between actors and audiences, politicians and the people they represent. Many are even hosting their own websites to stay connected, writes Gyan Marwah
Aamir Khan finds it a stress-busting activity. Shah Rukh Khan manages to find time for it from his busy schedule and Shashi Tharoor is hopelessly addicted to it. Over the past couple of years a number of celebrities have begun to tweet and blog. People in public life, both young as well as seasoned campaigners, are active 'online' and are reaching out to their fans using the Internet networking sites.
Pottery makes it to the Net
The increasing inclination of netizens towards pottery, as gauged on social networking sites, speaks about the popularity of the art among the youth, says Ashwaq Masoodi
Remember your earthen piggy bank when you were in primary school or the diya (lamp) you lit on Divali? The use of pottery in the Indian household may seem to have declined but there is a revived interest of young generation in learning the art.
Summer styles
The summer of 2010 will see men wearing low waistline boot-cut jeans, and women going in for short kurtis and hot pants, says Lata Patkar
This summer will be exciting for the fashionable as the latest ramp styles include newer fabrics, sharper cuts and bolder silhouettes with brilliant colours. Texture fashion designers opine that any fabric that combines the sheen of silk and the feel of cotton should be OK. Bombay designer Harish Desai says that while plain cotton will keep up its place with leading couturiers, dual-shaded linen and cotton lycra are the materials the couturiers want.