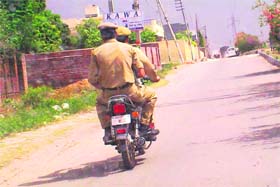 Flouting rules: Two policemen without helmets ride a motorcycle having no number plate at Greater Kailash in Jammu on Thursday. A Tribune photograph
Lajpat Nagar Blast Case Verdict
Separatists give call for strike today
Srinagar, April 22
The death penalty awarded to three youths convicted in the Lajpat Nagar blast case has been resented by various political parties, both mainstream and separatists in valley. The two factions of the APHC, moderates led by Mirwaiz Umar Farooq and hardliners led by Syed Ali Geelani, have also called for a protest strike against the sentence tomorrow.
PDP to hold statewide protests on April 26
Srinagar, April 22
Expressing concern over the uncertain situation in the state, former Chief Minister Mufti Mohammad Sayeed said here today that the PDP would organise demonstrations at all district headquarters on April 26 to draw the government's attention towards it.
Stop water lifting from Surinsar, Mansar lakes, demand residents
Jammu, April 22
Expressing grave concern over the depletion of natural resources in the Kandi areas of Udhampur and Samba districts, residents of Mansar and adjoining localities today demanded that the lifting of water from Mansar and Surinsar lakes should be stopped immediately.
Engineers told to complete water supply schemes on priority
Jammu, April 22
Minister for Public Health Engineering (PHE), Irrigation and Flood Control, Taj Mohi-ud Din, today directed engineers to prioritise the completion of ongoing water supply schemes instead of taking up new ones.
Dogra sabha alleges bungling in rural job scheme, seeks probe
Jammu, April 22
Alleging large-scale corruption and bungling in the implementation of the Mahatma Gandhi National Rural Employment Guarantee scheme in the rural areas of Jammu, the Dogra Sadar Sabha today demanded a high-level inquiry.
High Court order on adjustment of Head Assistants quashed
Jammu, April 22
Justice J.P. Singh of the Jammu and Kashmir High Court today quashed a High Court order, dated November 24, 2008, wherein some Head Assistants, who were admittedly ineligible for promotion and did not possess the requisite qualification were adjusted against the posts.
Earth Day
Need to encourage use of non-conventional energy sources: Minister
Srinagar, April 22
Stating that climate change is common concern of all, Agha Syed Ruhullah, Minister for Science, Technology and IT, said today that the government and the university needed to work together to encourage people to use non-conventional sources of energy.


Earth Day
Students, NGOs asked to protect ecology
Jammu, April 22
Mubarak Gul, adviser to Chief Minister Omar Abdullah, today appealed to student community, NGOs, social organisations and government departments, including the Pollution Control Board, to play a positive role in the protection of ecology and environment of the state.
Students take part in an awareness rally on World Earth Day with a message, "Global warming and Save Earth Planet", organised by the Kendriya Vidyalaya, Bantalab, in Jammu on Thursday. Photo: Inderjeet Singh
Paper Leak Case
Education board Section Officer held
Jammu, April 22
Two days after the arrest of two officials of the state Education Department for their alleged involvement in smuggling answer sheets, the Miran Sahib police today arrested a Section Officer (SO) of the Board of School Education for his alleged involvement in leaking paper.
Shopian Case
Quash charges against cops, CBI asks HC
Srinagar, April 22
The CBI has again approached the Jammu and Kashmir High Court seeking to dismiss criminal charges against four policemen, including then Shopian Superintendent of Police Javed Mattoo, arrested for alleged destruction of evidence in connection with the death of two women.
Adulterated Soft Drinks
MC health wing to tighten noose around dealers
Jammu, April 22
The Health Wing of the Jammu Municipal Corporation has decided to tighten its noose around dealers in the city soon who are selling adulterated soft drinks to customers.
Hunt on for two Pak militants
Jammu, April 22
Four days after they escaped, two heavily armed Pakistan terrorists continue to elude the security forces in the Rajbagh area. "We are working on the case and searches are going on," Kathua district SSP Gareeb Dass told The Tribune.
BSP leader joins NCP
Jammu, April 22
Rajesh Gupta, general secretary of the state unit of the BSP, joined the Nationalist Congress Party (NCP) today. Randhir Singh, president of the NCP, appointed Gupta as the state general secretary of the party and also made him the in charge of the party's frontal organisations.
Roadmap for NCC expansion discussed
Jammu, April 22
The NCC Directorate, J&K, organised the annual training conference at Batote in Doda district today wherein the roadmap for the expansion of the NCC over the next five years was discussed.
Hunter mistaken for militant
Jammu, April 22
In the backdrop of security forces' search for two armed Pak militants in the Rajbagh area of Kathua district, a hunter today sent villagers and the police into a tizzy when he fired two rounds in a forward area close to the international border in the Hiranagar sector.
BSF chief calls on Governor
Jammu, April 22
The Director-General, Border Security Force, Raman Srivastava, called on Governor NN Vohra at Raj Bhavan, here today.