Man held for hatching conspiracy
Solan, April 23
The Nalagarh police arrested one Zakir Hussain from Kirpalpur village for hatching a conspiracy to eliminate a resident of Pathankot along with his three accomplices. The case came to light when a taxi operator, Raju, from Nalagarh was engaged to take passengers in his taxi (HP-12-4890) on April 17 to Jalandhar.
Broker kidnapped under mysterious circumstances
Mandi, April 23
In a sensational incident, four unidentified men, belonging to a particularly community, kidnapped local broker Vinay Kumar under mysterious circumstances. The kidnappers, believed to be from the Saharanpur area, have demanded a ransom of Rs 10 lakh for his release, according to family sources.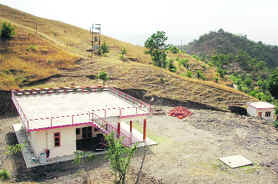 House in Shiv Shankargarh where Swami Nityananda stayed before being arrested. A Tribune photo

Brothers drowned in septic tank
Solan, April 23
Two brothers Mohit (4) and Abhishek (5) were drowned in a 20-ft-deep sanitation tank located near Housing Board Colony Phase III at Baddi this morning. While the police managed to fish out the body of Mohit, search was still on to trace Abhishek.
Kashang project gets environment clearance
Shimla, April 23
The Union Ministry of Environment and Forest has granted environment clearance for the integrated Kashang (243 MW) hydroelectric project.
Women seek action against PTI teacher
Bilaspur, April 23
A large number of women from Hawani (Matyara) village, Ladda gram panchayat and adjoining areas came out to the streets, protesting against the bailing out of PTI teacher Pyar Singh Pathania of Government High School at Ladda near Ghumarwin, who had allegedly assaulted a 15-year-old class X student of the school on April 19.
Docs resent contractual appointment
Shimla, April 23
The Himachal Medical Officers' Association (HMOA) has threatened to launch an agitation in case the government does not make regular appointment of doctors through the State Public Service Commission (HPPSC) rather than contractual appointments.
HC restrains auction of parking slot
Shimla, April 23
The Himachal Pradesh High Court today restrained the Municipal Corporation (MC), Shimla, from holding the auction of the parking slot below the high court parking.
Gadkari to visit state from May 7
Shimla, April 23
BJP National President Nitin Gadkari will be visiting Himachal for three days from May 7 onwards for the first time after assuming the top party post.
3 sandalwood smugglers held
Kangra, April 23
Three persons were arrested and eight sandalwood logs worth lakhs were recovered from their possession at a naka at Lal Tanki at Sansarpur Terrace under the Dhera police station on Wednesday night.
Ex-minister bereaved
Mandi, April 23
Rama Devi (73), wife of former telecom minister Sukh Ram, who died yesterday at Delhi after a prolonged illness was cremated today here.