M A I N N E W S
2 Pak militants, two cops killed in Pathankot
Bharat Bhushan Dogra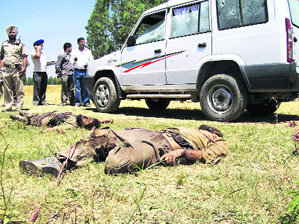 Policemen inspect the bodies of militants killed in an encounter at Ratrawan village in Gurdaspur district on Sunday. — PTI

Pathankot, April 25
Two Pakistani militants who had infiltrated into the country from across the Indo-Pak border were killed in an encounter at Ratrawan village in Bamiyal sector, about 50 km from here, today. Two policemen also lost their lives while as many of them were injured in the fierce gunfight that lasted for an hour-and-a-half.
Addressing mediapersons, Punjab DGP PS Gill said the militants had infiltrated via the Bamiyal sector in Gurdaspur district. He said the cops who lost their lives — head constables Narinder Singh and Surinder Singh, both posted at Gurdaspur police station — were part of a 16-member team, led by DSP Garib Dass, constituted for the purpose.
Notably, Ratrawan residents had spotted two heavily-armed strangers in their area yesterday. The cops were informed who launched a manhunt later. And at 6 am today, the police found the militants hiding in a garden, following which the encounter ensued. Gill said two AK-47 rifles, 16 magazines, 500 rounds, two detonators, nine hand grenades and Rs 2,390 were seized from the slain terrorists. He said the entire area had been cordoned off and the search operation was on. The DGP has announced financial assistance of Rs 10 lakh each, apart from Rs 1 lakh from the Police Welfare Fund and a job to a family member, for the kin of the deceased policemen.
Ravi Krishnan Khajuria adds from Kathua: The Bamiyal border outpost (BOP) where the gunfight took place lies close to the Tinda BOP near Simbal Skole village and the Paharpur forward BOP. After the Paharpur BOP that falls in Kathua district of Jammu, comes Tinda followed by Bamiyal in Punjab.
Kathua district SSP Gareeb Dass said: "We had launched a manhunt for the two militants since April 19". Official sources said the fleeing ultras had approached a couple in Kot Punnu village on the forward post of the Paharpur BOP on this side of the state, asking them about certain routes.
Of late, Pakistan troops had resorted to heavy firing in the Bamiyal-Tinda sector reportedly damaging a major portion of the fence on the border. Security forces in Kathua had been scanning Chabechak, Billawar, and Ghati, including the Ujh river, since April 19 when the two militants had fired upon a police party before disappearing from a forest nursery in Chabechak the next morning.
On April 20, the security forces, which had claimed that they had laid a cordon around the nursery, found a rucksack from the area and recovered wire cutters, eatables and some documents from it. The Kathua police chief had earlier said that going by their guerrilla warfare tactics, it appeared the two terrorists might be members of the Lashkar-e-Toiba.