PUNJAB
HARYANA
JAMMU & KASHMIR
HIMACHAL
REGIONAL BRIEFS
NATION
OPINIONS
LETTERS
BUSINESS
SPORTS
WORLD
Monday, April 26, 2010, Chandigarh, India
Updated at 3:00 am (IST)

IPL final sees Modi's ouster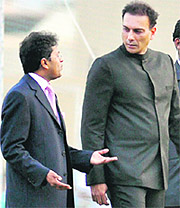 Mumbai, April 25
Lalit Modi was tonight suspended as the IPL commissioner and issued a show-cause notice capping two weeks of raging controversy over financial wrongdoings in the hugely popular cricket tournament.


Shunted out: Lalit Modi talks to commentator Ravi Shastri in Mumbai on Sunday. — PTI


May be axed ahead of meet

IPLgate: O & BOARD OF NO CONTROL

Read more related stories
CAST YOUR VOTE
Should politicians be allowed to withdraw so-called vendetta cases against MLAs?

EDUCATION
JOBS & CAREERS
HEALTH & FITNESS
SCIENCE & TECHNOLOGY
REAL ESTATE

SPORTS & WELLNESS
2 Pak militants, two cops killed in Pathankot
Pathankot, April 25
Two Pakistani militants who had infiltrated into the country from across the Indo-Pak border were killed in an encounter at Ratrawan village in Bamiyal sector, about 50 km from here, today.
Mid-air Scare
Turbulence rattles flight to Kochi; 23 injured
Kochi, April 25
As many as 364 passengers of a Kochi-bound Emirates flight from Dubai today had a narrow escape when the plane encountered severe turbulence over Bangalore region, injuring 23 persons on board.
Security scare in Ludhiana
Ludhiana, April 25
A security scare was triggered today evening in Ludhiana after the police received a call claiming bombs had been planted at five busy spots in the city, but it turned out to be a hoax.
UNION BUDGET 2010-11
RAILWAY BUDGET
2010-11
NDA 60 Glorious Years
1857 The First Challenge
E - Revolution 2005:
A Two-day IT conclave
Assembly Elections - 2005
Turbans
Chandigarh is 50
125 Years of The Tribune
India: The Tasks Ahead
India at Sixty
A Tribune Supplement
EARLIER FEATURES
On Sundays
On Saturdays
Chennai
win IPL 3: Chennai Super Kings' players celebrate the dismissal of Mumbai Indians' Shikhar Dhawan during the IPL-3 final match in Navi Mumbai on Sunday. Chennai beat Mumbai by 22 runs.
Details on Sports page

IITs mull strategy to compensate students
JEE errors: Top brass meets in Kanpur after HRD Ministry's orders
New Delhi, April 25
Embarrassed by a series of errors that marked the IIT-JEE 2010, directors of the prestigious institutes met in Kanpur today to figure out a strategy whereby the affected students could be convinced of immunity on account of problems in the question banks.


Back to School-II
Class IX English topper can't read a sentence
It's all Greek to most students in Haryana govt schools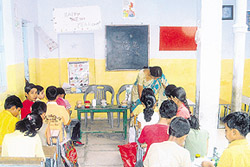 Karnal/Panipat, April 25
In Government Senior Secondary School, Dheen, Nancy is a star. Having stood first in the Class IX examination, the school has a lot of expectations from her in Class X.
Modi lobbies for support as BCCI plans his ouster
April 25, 2010

Oppn wants JPC probe into IPL
April 24, 2010
Modi grilled third time, it is BCCI's turn today
April 23, 2010
Taxmen raid IPL franchisees
April 22, 2010
Modi inches closer to exit
April 21, 2010
IPL guilty won't be spared: Pranab
April 20, 2010
Tharoor quits post & pal Sunanda franchise
April 19, 2010
Just before IPL match, blasts in Bangalore
April 18, 2010
BRIC wants greater role for India, Brazil in UNSC
April 17, 2010

Finally, PSEB is history
April 16, 2010