M A I N N E W S
Modi inches closer to exit
Cong builds pressure on Pawar for IPL boss's ouster
Anita Katyal
Our Political Correspondent
New Delhi, April 20
As the UPA government moves determinedly to oust controversial IPL commissioner Lalit Modi, its larger political game plan is to rein in NCP chief Sharad Pawar, but without alienating him.
Pawar's proximity to the IPL commissioner is well known and the buzz in political and cricketing circles is that the Union Agriculture Minister would go all out to protect Modi.
Well aware of this special bond between the two, Finance Minister Pranab Mukherjee and Home Minister P Chidambaram met the NCP supremo this morning to urge him to use his influence in the IPL governing council and the BCCI to get rid of Modi. Mukherjee and Chidambaram are learnt to have shown incriminating evidence against Modi to buttress their case. The sub-text here was Pawar should cooperate with them or else he could also get singed in the ongoing inquiry ordered by the government.
In a day of feverish activity, Pawar subsequently met BCCI president Shashank Manohar to discuss the possible action to be taken against Modi for his controversial role in the bidding for the IPL Kochi team. BCCI members Arun Jaitley and Rajiv Shukla, who are also gunning for Modi due to "personal reasons", also called on Manohar to press for the IPL commissioner's ouster. However, Pawar and other BCCI members are also well aware that Modi will not go without exposing their involvement in the IPL franchisees.
This probably explains Pawar and Manohar's guarded reaction to persistent media queries after the meeting. Stating that a "collective and unanimous" decision would be taken at the IPL's governing council meeting in Mumbai, which, they said, would be in the interest of the Indian cricket. While this tug-a-war is going on, the government has swung into action. The Income Tax Department as well as the Enforcement Directorate have already got cracking and are in the process of investigating Modi's assets and all aspects of IPL functioning and its sources of funding. At the same time, the BCCI has also come under the scanner of the I-T sleuths. This is being seen as a clear signal to the BCCI in general and Pawar in particular that they should dump Modi at the earliest.
As it is, reports have surfaced that Pawar's son-in-law Sadanand Sule and his party colleague Civil Aviation Minister Praful Patel also had an indirect business interest in the IPL. These charges have been promptly denied by Pawar's daughter, Lok Sabha MP Supriya Sule, and Patel, who even went to the extent of blaming a section of the Congress for spreading "this slanderous campaign" against him.
UPA sources revealed that the government's crackdown on the IPL and the BCCI is essentially meant to build pressure on Pawar into dumping Modi but will not proceed beyond that. The UPA can ill-afford to alienate the NCP at this juncture when it is busy counting its numbers in the Lok Sabha for the transaction of crucial financial business. Besides, the Congress and the NCP are running a coalition government in Maharashtra and neither side wants to rock the boat.
Realising that it cannot push Pawar too far given the compulsions of coalition politics, the Congress is hoping that to keep the NCP on a tight leash by ensuring that the inquiries ordered by the ruling combine are not wrapped up in a hurry.
A final decision on Modi will be taken by the BCCI after the IPL finals on April 25. The cricket board has also rescheduled its working committee meeting from April 24 to May 2 as it wants the IPL's governing council - which is expected to meet here on April 26 to discuss this issue first.
Tharoor plays the moral card
Aditi Tandon
Tribune News Service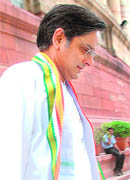 New Delhi, April 20
Former minister of state for external affairs Shashi Tharoor must have never received as many accolades for being in office as he got today for being out of it.
As soon as the Congress MP from Thiruvananthapuram wound up his seven-minute-long explanation in the Lok Sabha on why he quit office following the IPL controversy, fellow Congress leaders swarmed his desk like never before, flooding him with congratulations. As he accepted the gifts, a veiled look on his face seemed to be saying: Politics is strange.
Apparently it is, with Tharoor today drawing the curtains on his about 10-month tenure as a minister, a charge he assumed on May 29 last. To watch him go, the Prime Minister and UPA chairperson Sonia Gandhi were not present in the House. But Finance Minister Pranab Mukherjee was there, a copy of Tharoor's explanation in his hand. Pranab is said to have vetted it. That explained its near-perfect slant, which would serve Congress' interests well in the Kerala Assembly elections due next year.
So why did Tharoor resign? "Not because he did anything unethical or illegal, but because he was conscious that his role in IPL was distracting the Parliament from far more important business. He had no desire to embarrass the government and believed his departure would allow the PM to concentrate on greater challenges facing the nation".
So the ex-minister resigned "on moral grounds". He even dared to be investigated: "I requested the PM to have all the fanciful and malicious charges against me probed. My conscience is clear. It's important to me that my name is cleared."
Tharoor's speech was laced with carefully-chosen references to Kerala and the Congress party, with Tharoor repeatedly thanking Thiruvananthapuram voters for electing him; declaring how proud he was to represent Kerala, which had fallen behind (read due to Left's policies); professing his gratefulness to PM and Sonia Gandhi, the "finest public servants India has ever had". The former minister even came dressed in traditional Keralite attire, the trademark Congress stole in place — all for effect.
And that wasn't all. He ensured to pepper his defence with the right emotions, quoting the great Kerala poet Vallathol — "When you hear the name of India, your heart must swell with pride; when you hear the name of Kerala, blood must throb in your veins."
"My heart swells with pride for India and Keralite blood throbs in my veins," said the politician, who claimed earlier in his speech to be "new to Indian politics". On this quote, he's said to have consulted former Congress minister from Kerala Pandalam Sudhakaran, also a lyricist.
The verse generated a response Tharoor was fancying, as a hitherto silent House burst into applause, with the Kerala Congress lobby thumping their desks to the extent of deafness.