PUNJAB
HARYANA
JAMMU & KASHMIR
HIMACHAL
REGIONAL BRIEFS
NATION
OPINIONS
LETTERS
BUSINESS
SPORTS
WORLD
Wednesday, April 21, 2010, Chandigarh, India
Updated at 3:00 am (IST)

Modi inches closer to exit
Cong builds pressure on Pawar for IPL boss's ouster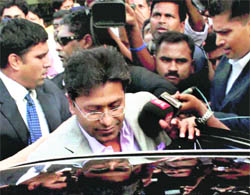 New Delhi, April 20
As the UPA government moves determinedly to oust controversial IPL commissioner Lalit Modi, its larger political game plan is to rein in NCP chief Sharad Pawar, but without alienating him.


Tharoor plays the moral card

UNCERTAIN FUTURE: IPL commissioner Lalit Modi at the international airport in Mumbai on Tuesday. — PTI

IPL team owners face fraud probe
Mumbai, April 20
A number of agencies have begun to probe the functioning of the Indian Premier League. Apart from bodies under the Finance Ministry like the Enforcement Directorate and the Income Tax department, the Ministry of Corporate Affairs has also joined the investigations.


BCCI laughs its way to bank as no tax on IPL in M'rashtra
CAST YOUR VOTE
Should politicians be allowed to withdraw so-called vendetta cases against MLAs?

EDUCATION
JOBS & CAREERS
HEALTH & FITNESS
SCIENCE & TECHNOLOGY
REAL ESTATE

SPORTS & WELLNESS
400 Maoists attack four CRPF camps in Dantewada
Raipur, April 20
The specter of Dantewada massacre came back to haunt the CRPF, when Maoists tonight opened fire on four separate CRPF camps in quick succession in Dantewada district, triggering gunbattles. However, there was no immediate report of casualties.
RBI hikes key rates to tame inflation


Mumbai, April 20
The Reserve Bank of India today announced a 25 basis points increase in repo and reverse repo rates as part of monetary tightening measures to rein in inflation. The apex bank also announced a 25 basis points increase in the Cash Reserve Ratio (CRR) for banks.


Editorial: RBI soft on inflation

RBI Governor D Subbarao: Further hike in rates not ruled out
TODAY'S SPECIALS
JOBS & CAREERS

AMRITSAR PLUS

J&K PLUS

HIMACHAL PLUS

JALANDHAR PLUS

HEALTH & FITNESS

UNION BUDGET 2010-11
RAILWAY BUDGET
2010-11
NDA 60 Glorious Years
1857 The First Challenge
E - Revolution 2005:
A Two-day IT conclave
Assembly Elections - 2005
Turbans
Chandigarh is 50
125 Years of The Tribune
India: The Tasks Ahead
India at Sixty
A Tribune Supplement
EARLIER FEATURES
On Sundays
On Saturdays
Tribune Impact
PPSC Selection of Docs
KPS Gill moves court, seeks time-bound probe
Chandigarh, April 20
Just over a month after "a series of four investigative news-reports" were carried in The Tribune on the selection of 312 doctors by the Punjab Public Service Commission, Punjab's former Director-General of Police KPS Gill today moved the Punjab and Haryana High Court. The ex-top cop is seeking "a thorough and time-bound investigation into the integrity, objectivity and impartiality of the selections".
Commonwealth Games
Go tout-free, Centre tells states
New Delhi, April 20
In view of the forthcoming Commonwealth Games, the Centre has asked state governments in the National Capital Region, comprising parts of Haryana, Rajasthan and Uttar Pradesh, to enact legislations on the lines of the proposed Delhi Prevention of Malpractices and Touting Bill, 2009, to make their areas tout-free and ensure hassle-free and safe movement of tourists during the mega sporting event in October.


Nautch girls catch Cong on the wrong foot
Lucknow, April 20
A booklet and a group of nautch girls have forced Congress leaders in the state to look for cover. The two have unwittingly provided Bahujan Samaj Party, smarting after the rousing Congress rally at Ambedkar Nagar last week, an opportunity to get even.
IPL guilty won't be spared: Pranab
April 20, 2010
Tharoor quits post & pal Sunanda franchise
April 19, 2010
Just before IPL match, blasts in Bangalore
April 18, 2010
BRIC wants greater role for India, Brazil in UNSC
April 17, 2010

Finally, PSEB is history
April 16, 2010

PM: Talks with Pak only after action against 26/11 culprits
April 15, 2010
Zero-tolerance for illicit N-trade: PM
April 14, 2010
India to set up global nuclear centre
April 13, 2010
Obama's high-wire act to prevent nuclear terror
April 12, 2010
Polish Prez, wife among 97 killed in air crash
April 11, 2010