RBI hikes key rates to tame inflation
Shiv Kumar
Tribune News Service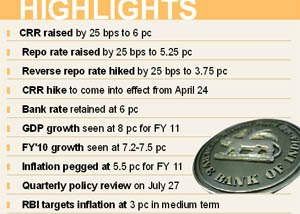 Mumbai, April 20
The Reserve Bank of India today announced a 25 basis points increase in repo and reverse repo rates as part of monetary tightening measures to rein in inflation. The apex bank also announced a 25 basis points increase in the Cash Reserve Ratio (CRR) for banks.
Following today's hikes, the CRR now stands at 6 per cent while the repo and reverse repo rates stand at 5.25 per cent and 3.75 per cent, respectively. While the CRR hike comes into effect from April 24, the new repo and reverse repo rates will come into effect immediately.
The RBI expected the hike in CRR to absorb Rs 12,500 crore from the banking system. "In the emerging scenario, lower policy rates can complicate the inflation outlook and impair inflationary expectations, particularly given the recent escalation in prices of non-food manufactured items," RBI said.
The apex bank said it was tightening liquidity in a bid to rein in inflation which was hovering in double digits. The RBI, however, expected inflation to remain at 5.5 per cent during FY 11 with the GDP growing at 8 per cent.
Speaking to mediapersons after announcing the monetary policy for the current financial year, Reserve Bank Governor D Subbarao hoped that government borrowing would not crowd out the private sector. Subbarao further warned that huge government borrowings would put pressure on interest rates in the current financial year.
Today's increase comes just one month after the RBI increased rates in a bid to contain inflation. Subbarao pointed out that further increases during the course of the year could not be ruled out. The Governor said the rate hikes were made in view of the liquidity, growth and inflation outlook for the next six months.
PTI adds: The RBI was today optimistic about the economy expanding by 8 per cent this fiscal, despite tightening of the monetary policy. "The Indian economy is firmly on the recovery path... The baseline projection of real GDP growth for 2010-11 is placed at 8 per cent with an upside bias," the apex bank said. GDP growth for FY'10 was seen at 7.2-7.5 per cent.