SC refuses to restrain Sohrab from representing India
New Delhi, April 20
The Supreme Court declined to immediately restrain shooter Sohrab Singh Gill, son of Punjab police chief PS Gill, from representing the country in any international sports event even as the Centre pleaded that the shooter could not be allowed to hold the national flag as he was an American citizen.
Mamata, Brinda showdown in RS
New Delhi, April 20
The House of Elders today became the venue of a showdown between Trinamool Congress chief and Railway Minister Mamata Banerjee and CPM Politburo member Brinda Karat, reminding once again the fierce rivalry that exists between the two parties in West Bengal.
Talks fail on Gujjar quota
Jaipur/Dausa, April 20
Gujjar leaders, led by Kirori Singh Bainsla, have returned to Sikandara in Dausa district after a fresh talks yesterday failed to break the deadlock over the issue of providing 5 per cent reservation to the community.
Army pulled up over extension in service
Chandigarh, April 20
Terming the Army's approach towards granting extension in service to officers as "inconsistent", the Armed Forces Tribunal (AFT) has held that the decision to deny extension to two Brigadiers from the military intelligence, who had an above average career profile, was "not very objective and does not appear to be well-founded".
Mukul Sangma is Meghalaya CM
Guwahati, April 20
Senior Congress leader Mukul Sangma could not have asked for a better gift, as he was sworn in as the Chief Minister of Meghalaya on his 45th birthday today, after DD Lapang quit as the CLP leader last night losing the support of 21 out of 28 Congress MLAs.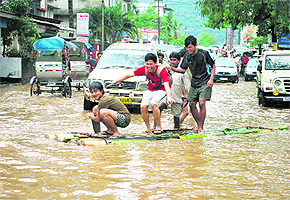 Guwahati flooded; rescue operations on
Guwahati, April 20
The authorities today deployed paramilitary troopers to carry out rescue operations in Guwahati hit by massive flooding, triggered by heavy rains since Sunday. Troopers of the National Disaster Response Force (NDRF), using rubber boats and rafts, rescued more than 200 people from various city areas reeling under waist deep water.
Youngsters traverse their way through a flooded street on a raft made from banana tree trunks in Guwahati on Tuesday. — Reuters

Shoaib gets back his passport
Hyderabad, April 20
Pakistani cricketer Shoaib Malik today got back his passport, which was in possession of a local court for about a fortnight after a cheating case was registered against him by his now divorced wife Ayesha Siddiqui.
Oz woman raped in Goa
Panaji, April 20
A 28-year-old Australian woman was allegedly raped by a Nigerian at Palolem beach and the accused has been arrested, the police said.
Mobile found from Nalini's cell
Vellore (TN), April 20
Jail authorities at the high security Vellore prison today said they had recovered a cellphone from Nalini, a life convict in the Rajiv Gandhi assassination case, during a routine check.