BJP livid over anti-Modi remarks
Gujarat Chief Minister likened to Hitler by German MPs; apology sought
New Delhi, April 12
The BJP has taken serious offence to a German team of MPs reportedly comparing Gujarat Chief Minister Narendra Modi with German Fuhrer Adolf Hitler and demanded an apology from the German ambassador here.
Assam, R'sthan, TN best performers under NRHM
New Delhi, April 12
As India celebrated completion of five years of National Rural Health Mission today, Assam won the best performing state award among the north-eastern state category for implementing the programme well.
ULIP Row
SEBI, IRDA to seek legal mandate
New Delhi, April 12
The government today said the two regulators SEBI and IRDA have agreed to maintain the status quo that existed before market regulator's ban on 14 life insurers from raising funds for unit-linked schemes.
Was Gorshkov negotiator honey-trapped?
New Delhi, April 12
A senior Indian naval officer, associated with the project for acquisition of aircraft carrier Admiral Gorshkov and now based in Delhi, may have been honey-trapped -- a phrase used when women are planted on officials to glean out information.
Why pilots succumb to pressure?
New Delhi, April 12
Reports emerging from Moscow suggest that the pilots flying Polish President Lech Kaczynski ignored Air Traffic Controller warning not to land at Smolensk because of heavy fog at the military airfield and divert to either Moscow or Minsk. Apparently, the pilots chose to take a decision that proved fatal for all 132 persons on board.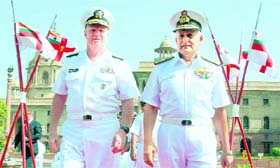 walking the red carpet: Navy chief Admiral Nirmal Verma and his US counterpart Admiral Dary Roughead (L) inspect a guard of honour in New Delhi on Monday. Tribune photo: Mukesh Aggarwal
Harassment of Woman Officer
Colonel faces court martial
Chandigarh, April 12
The Army has initiated disciplinary proceedings against a Colonel accused of sexual harassment by a woman officer. The complainant in this case, sources said, happens to be the same officer, who had earlier levelled similar allegations against a Major General who was subsequently tried by a General Court Martial and dismissed.
Census must cover OBC data: PIL in SC
New Delhi, April 12
The government today offered to respond in three weeks to a PIL filed in the Supreme Court demanding that the ongoing Census cover OBC data as part of the efforts to eliminate their 'backwardness'.
Jharkhand to ban use of arable land for industries
Ranchi, April 12
The Jharkhand Government will soon formulate a law banning transfer of agriculture land for industrial use, agriculture minister Mathura Mahto said here today. "We will soon formulate a law to ban transfer of agriculture land for industries. There is need to promote agriculture in the state.
BMW Case
SC to hear plea against reduced sentence
New Delhi, April 12
The Supreme Court today agreed to hear in July a police petition challenging the Delhi High Court verdict reducing to two years the five-year sentence pronounced on Sanjeev Nanda, grandson of late Naval chief SM Nanda, in the BMW hit-and-run case.
Cong dismisses Gadkari criticism of Rahul
New Delhi, April 12
The Congress today disdainfully dismissed Nitin Gadkari's criticism of Rahul Gandhi's "lack of experience" on infrastructure issues, calling the BJP president an "extension board" of the RSS who deserved no response.
Fighting Naxals
Air power must avoid collateral damage: Naik
Allahabad, April 12
Asserting that it was always ready to face any challenge to the country's internal security, the Air Force today said any decision on use of air power to tackle the Naxals must follow a clear strategy to minimise collateral damage.
Naxals, ULFA in cahoots: Gogoi
Guwahati, April 12
The Maoists have links with Assam's insurgent groups, including the banned United Liberation Front of Assam (ULFA), and tribal militants outfits from other hill areas, Assam Chief Minister Tarun Gogoi said here today.
Maoists threaten to kill former Armyman
Patna, April 12
Suspected Maoists have threatened to kill a former Army officer and his family in a Bihar village if he failed to pay them Rs.15 lakh, the police said today. The Maoists threatened to kill Umesh Sharma, retired from the Army, who lives in Muzaffarpur district's Madhu Chapra village, about 70 km from here.
Drive against rebels suspended
Raipur, April 12
The Central Reserve Police Force (CRPF) has suspended the anti-Maoist campaign in the Chhattisgarh's forests following the massacre of 75 troopers, state police sources said today.
CRPF reports hint at lack of training, facilities
New Delhi, April 12
Internal reports of the CRPF, which has just lost 75 personnel in the Maoists attack in Dantewada, say the force's field commanders had pointed out lack of training, work pressure and communication gaps as some reasons for losses in operations.