Implementation of projects discussed
Chandigarh, April 12
In order to lay a road map for implementation of reforms and projects under the Jawaharlal Nehru National Urban Renewal Mission during the year 2010-11, a meeting was held with eight northern states/UTs here today.
Differing in background, but sharing same values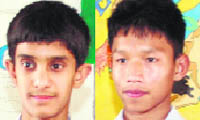 Chandigarh, April 12
The son of a humble Punjab government peon, Barinder Thapa, a class 8 student, got admission to the city's prestigious St John's School in Sector 26 under the reserved category for economically weaker sections. On the other hand, Divir Gupta, a class 10 student in the same school, is an IAS officer's son.
Divir Gupta/Barinder Thapa
60 fresh cases of diarrhoea
Chandigarh, April 12
About 60 fresh cases of diarrhoea have been reported in various government hospitals across the city. The total number of gastroenteritis cases has reached 190.
Citizens' Voice- N-Choe
'Stop raw sewage flowing into N choe'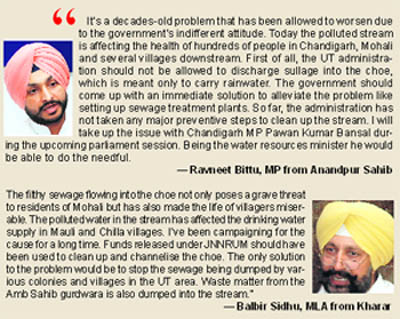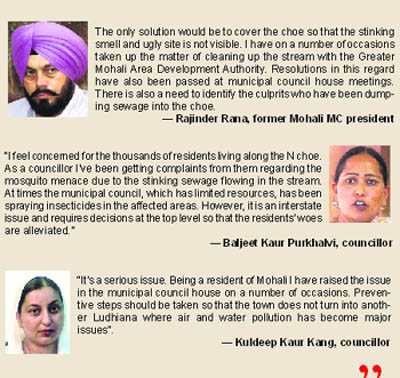 Summer heralds water, power shortage
Mohali , April 12
The onset of summer has heralded shortage of water and power.
Replacement of Water Supply Pipeline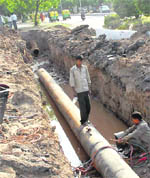 Residents go without water
Chandigarh, April 12
Due to the replacement of water supply pipeline in Sector 33-34 roundabout near Gulati Bhawan today, there was no water supply for the whole day in the sectors. The sectors include 20,21 C and D, 30 to 34, 44 to 47 and Industrial, Phase I and II.




Water supply pipeline being installed at Sector 33-34 roundabout near Gulati Bhawan, Chandigarh, on Monday. Tribune photo: Manoj Mahajan
Land Pooling Scheme
GMADA to issue another notice
Mohali, April 12
All is not well with the land pooling scheme of the Greater Mohali Area Development Authority (GMADA). The prospective applicants need more clarifications about the commercial plots being offered under the scheme.
Housefed allottees seek Badal's help
Mohali, April 12
The Housefed Flat Sangarsh Committee lamented that officials in the Housefed were not keen on early completion of its project in Sector 79 here.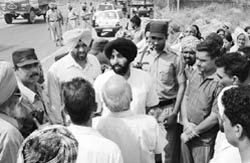 Residents protest displacement
Zirakpur, April 12
Tension prevailed in Gazipur village when residents of the area today learnt that they were being displaced of the land on which they had been living for years.


Banur constituency MLA Jasjeet Singh Bunny pacifies villagers who were trying to block the Chandigarh-Ambala highway at Zirakpur on Monday. A Tribune photograph
Poll date out, councillors on 'holiday'
Mohali, April 12
Even as certain councillors are on a "forced holiday" in the hills, away from the scorching heat to prevent them from being won over before the elections to the posts of president and senior vice-president, the administration has fixed April 15 as the date of the poll.
Deplorable state of affairs in slums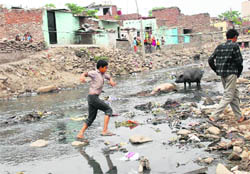 Chandigarh/Panchkula, April 12
When it comes to prevention of water-borne diseases, the Chandigarh as well as Panchkula administration are no different. Both have failed to keep a check on the out break of infections, including cholera, resulting in deaths despite tall claims of agencies concerned of taking appropriate steps in this regard.

A boy wades through muddy water of nullah along the Rajiv Colony in Panchkula. Tribune photograph: Manoj Mahajan.
Golden Jubilee Festivities
Gujarat team winds up Punjab visit
Chandigarh, April 12
The Gujarat government has invited Gujaratis from across the world to converge on Gandhinagar and Ahmedabad to participate in the 50th anniversary celebrations of the formation of Gujarat.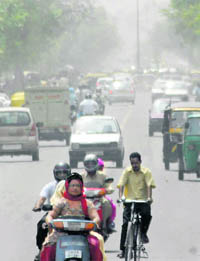 Commuters drive through the dust storm that hit parts of Chandigarh in the afternoon on Monday. Tribune photo: Manoj Mahajan
Reduction in entitlement of kerosene for ration cardholders
Residents of Colony No 4 take to roads
Chandigarh, April 12 Resentment prevailed among residents of Colony No 4 with regard to the UT administration's decision to reduce the entitlement of kerosene oil for ration cardholders from 15 litres to 10 litres.
Molestation Case
PGI doctor resigns
Chandigarh, April 12
Dr Vikas, senior resident of PGI's Anaesthesia Department, who was accused of molesting a patient's wife earlier this month, today, tendered his resignation.
Now, contractors to purchase raw material for projects
Chandigarh, April 12
To avoid delay in completion of major projects, the Chandigarh Municipal Corporation, in a shift from earlier policy, has decided that in future, steel and cement for construction works, will be purchased by the contractors to whom the work is allotted from certified companies of Rashtriya Ispat Nigam Ltd (RINL). The decision was taken at the Road Committee Meeting, which was held under the chairmanship of Resham Chand Jakhu today.
CTU bus fares set to go up from today
Chandigarh, April 12
The city's commuters will have to shell out more for travelling in local buses with the proposed increase in Chandigarh Transport Undertaking (CTU) fares likely to come into effect from Tuesday. According to home secretary Ram Niwas, the UT administrator has approved the hike and its notification is expected on Tuesday.


Poor Internal Assessment
Students submit memo to VC
Chandigarh, April 12
Expressing their resentment on the issue of poor internal assessment awarded to them, students of department of English and cultural studies, Panjab University, today appealed to the Vice-Chancellor to intervene in the matter.
Anonymous complaint
Admn marks inquiry against principal
Chandigarh, April 12
In a blatant violation of a Central Vigilance Commission directive, the UT administration today not only took a cognisance of an anonymous complaint filed against a local government school principal, but even marked an inquiry against her.
PU rivalry turns ugly
Chandigarh, April 12
If the track record of student parties of Panjab University is any indication, nearly all presidential candidates belonging to two prominent parties - the Student Organisation Panjab University (SOPU) and Panjab University Student Union (PUSU) have either indulged in major acts of violence or have been framed by the rival party.
Nitin seeks permission to take exams
Chandigarh, April 12
Nitin Jindal, who is expected to return to the city on Wednesday, has appealed to the Panjab University Vice-Chancellor today to permit him to appear in the examinations starting on April 16.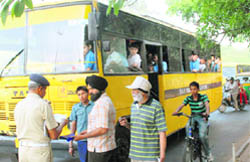 School bus drivers challaned
Chandigarh, April 12
The traffic police today booked 149 school bus drivers during a special drive to check traffic rules violations committed by them.



A school bus driver being challaned for not wearing proper uniform near the lights on the road separating Sectors 17 and 18 during a drive to check violations in Chandigarh on Monday. Tribune photo: Manoj Mahajan