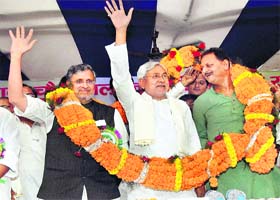 Bihar Chief Minister Nitish Kumar along with Deputy Chief Minister Sushil Kumar Modi being garlanded during the Baba Chauharmal birth anniversary function in Patna on Sunday. — PTI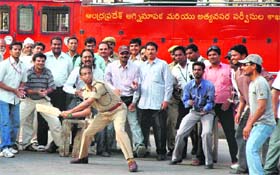 Police Commissioner AK Khan plays cricket near the Charminar in the old city of Hyderabad on Sunday. — PTI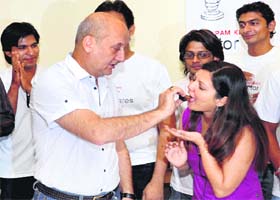 Actor Anupam Kher (L) offers a cake to a student on the fifth anniversary of his acting school in Ahmedabad on Sunday. — PTI
Communal Violence Bill
Ministry to seek fresh Cabinet nod
New Delhi, April 4
The Ministry of Home Affairs is in the process of seeking fresh approval of the Cabinet for moving official amendments to the long-pending Communal Violence Bill and for consideration and passage of the same in Parliament.
North lags behind in education
New Delhi, April 4
A study conducted by industries body Confederation of Indian Industries and Market Research Organisation KPMG says North Indian states significantly trail the western and southern regions of the country in overall literacy rate.
Sibal attacks Maya for RTE comments
New Delhi, April 4
The Congress and BJP today attacked Uttar Pradesh Chief Minister Mayawati for criticising the lack of funds for the Right to Education Act, saying the state government spent more on building statues and employing security men to guard them.
Biometric PAN cards put on hold
New Delhi, April 4
The Income Tax Department's proposal to issue biometric PAN cards has been put on hold so as to avoid duplication with the UID numbers to be issued by Nandan Nilekani's Unique Identity Authority of India (UIDAI).
India in no mood to hand over Kasab to Pak
New Delhi, April 4
India today virtually ruled out handing over Ajmal Kasab, the lone terrorist caught during the 26/11 strikes, or his associate Fahim Ansari to Pakistan as it emphasised that "justice" was taking its course in this country in the Mumbai attacks case.
Terror camps in Pak intact: Govt
New Delhi, April 4
The government has said the terror infrastructure in Pakistan continues to remain intact and infiltration in Jammu and Kashmir remains unabated with a substantial increase in 2009.
World's smallest and lightest UAV developed
Kolkata, April 4
Claimed to be the world's smallest and lightest, Carbon, an unmanned aerial vehicle (UAV) developed by a private firm can be used for anti-terrorist and counter insurgency operations besides disaster management and aerial photography.
ISB inks pact with MIT Sloan
Hyderabad, April 4
The Indian School of Business (ISB), a premier management institution, has signed a Memorandum of Understanding (MoU) with the MIT Sloan School of Management, USA, to develop two new institutes at the ISB's upcoming campus at Mohali.


preparing for bihu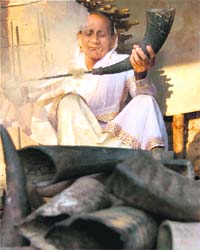 An elderly woman makes 'mohor singor pepa' (a pipe made from buffalo's horn) ahead of the Rongali Bihu celebrations in Assam on Sunday. — PTI
Rival gangs target criminal lawyers
Mumbai, April 4
Criminal lawyers, defending accused with underworld connections, have themselves now come under the scanner of rival gangs. In the recent past, there has been a spurt in the number of lawyers being attacked, threatened and their offices being ransacked.
Poor may get right to 35 kg foodgrain a month
Empowered Group of Ministers of Food meets today
New Delhi, April 4
The Empowered Group of Ministers (EGoM) of Food, headed by Finance Minister Pranab Mukherjee, will meet tomorrow to consider raising poor families' entitlement for rice or wheat to 35 kg per month at Rs 3 per kg.
Pirates release second Indian vessel
Ahmedabad, April 4
Somalian pirates today released a second vessel with 11 Indian sailors that was hijacked last week while there was no word on the fate of six other dhows and 85 Indian sailors captured by them.
Will to choose an heir to email account
New Delhi, April 4
Ever heard of someone making a 'Will' to bequeath his email accounts and other digital secrets! Prashant Das (name changed) is possibly the first in the city to make a will naming his sons as nominees to his different email accounts.
Keoladeo park to get water by June
Jaipur, April 4
The state government has announced that the Keoladeo National Park, which has been grappling with acute water crisis for the last few years, will start receiving a regular supply of water from the Chambal river by June this year.
HC allows Assam DGP to continue
Guwahati, April 4
The Gauhati High Court has come to the rescue of Assam's Director General of Police (DGP), Sankar Barua by allowing him to continue in the office through a verdict staying an order issued by the Central Administrative Tribunal (CAT), Gauhati Bench, on March 5 last quashing his appointment.
Court for no leniency to corrupt officials
New Delhi, April 4
Sending a strong warning to the government employees involved in corruption, the Delhi High Court has ruled that "leniency or sympathy" should not be shown to such officials.
$1-bn WB loan for urban projects
New Delhi, April 4
The World Bank has agreed to give $1 billion loan to India for various development projects in the urban areas. "World Bank has agreed in principle to give us $1 billion (Rs 5000 crore) for implementing various schemes under the Jawaharlal Nehru National Urban Renewal Mission (JNNURM)," said a senior Urban Development Ministry official.
Hooch kills 10 in UP
Bhadoi (UP), April 4
As many as 10 persons died and 13 others, including eight women, were taken ill after consuming spurious liquor at different places in Bhadoi and Varanasi districts, official sources said here today.