State grapples with water woes
Geetanjali Gayatri
Tribune News Service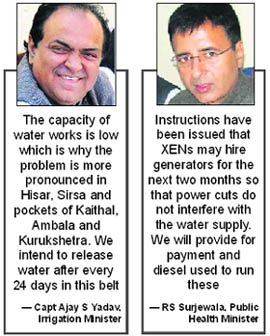 Chandigarh, April 20
Haryana is parched. Water supply from the Bhakra dam is down to nearly half of what was available last year, the rotational supply is being released every 32 days against 16 days, seven of the 21 districts are grappling with water woes. As if that's not bad enough, power cuts are wreaking havoc with the limited supply.
As summer gathers steam, the Irrigation Department is hard-pressed for water, especially since supply is down from all sources and the demand is continuously on the rise. Against water availability of 10,000 cusecs at this time last year, the availability has drastically fallen to only 5,400 cusecs.
"At the Narwana breach, we are getting only 2,749 cusecs against 3,950 of last year while at Munak we are down from 6,590 cusecs to 4,536 cusecs and the situation is similar elsewhere," says Capt Ajay Singh Yadav, Irrigation Minister.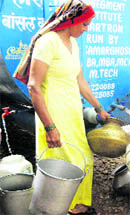 The reduced availability has led to release of water after a gap of 32 days from 24 days till a few weeks back. Further, against three or four zones, the state has been divided into five zones for supply. Capt Yadav says that though this is a lean period, the increasing levels of inflow in dams may improve the situation in the coming days, provided the state gets sufficient rainfall. "The capacity of water works is low which is why the problem is more pronounced in Hisar, Sirsa and pockets of Kaithal, Ambala and Kurukshetra. We intend to release water after 24 days in this belt," the minister said.
If the Irrigation Department is in troubled waters, the Public Health Department too is facing the heat. The department is well aware of the chronic trouble spots - Mahendragarh, Narnaul, Rewari , Jhajjar, parts of Rohtak, Jind and Hansi in Hisar, all comprising the southern belt.
To make matters worse, the state is plagued by power cuts which disrupt supply as well, leading to protests. Complaints have started pouring in from Meham, Loharu, Jhajjar and Mahendragarh and officials have been asked to redress public grievances. In systems designed to store water up to 16 days, the supply is released every 32 days, making water management difficult. "We can stretch the supply for 16 days to 20-22 days at the most, but anything beyond that is a problem. However, we are trying to manage the limited supplies optimally. Since power cuts have a fallout on water supply, as a first-time initiative, instructions have been issued that XENs may be allowed to hire generators for the next two months so that power cuts do not interfere with the water supply. We will provide for payment and diesel used to run these," says Public Health Minister Randeep Singh Surjewala.
The department claims to have created its own mechanism which includes boring of shallow tubewells on a priority basis wherever possible. Further, chief engineers have been told to tour the state, especially trouble areas, and district officials to ensure water supply at one point in villages where water pressure is low.
The department has decided to discontinue the earlier practice of using tankers to supply water since the quality of such a supply is usually questionable and carrying out quality checks is not possible. "Our experience with water tankers has not been a happy one. There have been complaints of money being misused and complaints on quality of water," Surjewala says.