| | |
| --- | --- |
| | The Chandigarh traffic police challans a car driver for over speeding on Madhya Marg in Chandigarh. The police launched a special drive on Monday in which 144 motorists were booked for over speeding and challaned another 70 drivers for miscellaneous offences. Tribune photo: Manoj Mahajan |
Salaried class faces higher tax liability from next year
Chandigarh, April 26
The city's salary earners should brace themselves for paying increased taxes once the ongoing census exercise is completed and the headcount officially declared. The reason: the union territory's population is expected to cross the one million mark thereby putting salary earners in a higher tax bracket, especially those who provided housing facility by the employer.
Using ambulance to sneak out of hostel
Chandigarh, April 26
A major reshuffle of the staff of hostels on the Panjab University campus is now under way. While varsity officials cited the "lackadaisical" attitude of certain employees as the rationale behind the move, sources close to the PU health centre indicated the actual problem was the failure of the present hostel staff in identifying "false" medical complaints by hostellers during night hours.
Cop thrashes woman colleague
Chandigarh, April 26


High drama was witnessed at the Punjab Civil

Secretariat, Sector 1, here when a Punjab Police head constable allegedly thrashed a woman colleague and slightly tore the collar of her kameez (shirt) following an altercation over an armchair.
Balwinder Kaur and Jaswant Singh
No freeway at Daria village
Panchayat levies entry tax on villagers
Chandigarh, April 26
The levy of "entry tax" at Daria near the Chandigarh railway station by the panchayat has snowballed into a major controversy with villagers up in arms against "financial exploitation" and demanding a high-level probe into the case.
MC turns blind eye to fire safety norms
Not sealed even a single restaurant till date
Chandigarh, April 26
A major fire at Barbeque Nation, the multi-cuisine restaurant in Sector 26, early on Sunday morning due to a short circuit would have singed hundreds had it taken place during the peak business hours.
Vehicles parked indiscriminately in front of shops-cum-offices in Sector 35, making it virtually impossible for fire tenders to enter the area in the event of a fire breaking out (Left) and middle a fire hydrant with a three-inch pipeline on the rear wall of an SCO in Sector 35, violating fire safety norms that stipulate the pipe's diameter should be at least four inches and (right)overhead water tanks and sundry items effectively blocking the access and exit points on the rooftop of the Sector 26 building that caught fire on Sunday . Tribune photos: Manoj Mahajan
Admn swallows 'slumdog' term
Chandigarh, April 26
Stung by media criticism about the use of the term "slumdog" for slumchildren in a health survey, the UT administration was forced to swallow it's own words and has today regretted for inadvertently hurting any feelings of any section of the society.
MC told to remove hoardings
Zirakpur, April 26
The Zirakpur Municipal Council president Narinder Sharma has asked the MC officials to remove the encroachments and hoardings along the roadside.
Councillors decide to stage walkout
Chandigarh, April 26
Councillors of the Chandigarh Municipal Corporation have decided to stage a walkout from the Finance and Contract Committee (F&CC) meeting scheduled for tomorrow till the authorities give satisfactory reply to their queries raised in the General House meeting a month back.
Recession blues still haunt Sector 17
Major brands shut their shops, move to other sectors
Chandigarh, April 26
Recession may be on its way out, but in the prime commercial centre of Chandigarh - Sector 17 - the recession blues continue to haunt multinational companies (MNCs) and big corporates.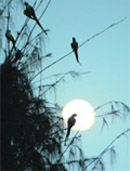 Threat to Fauna
Parrots losing home to e-Sampark centre!
Chandigarh, April 26
Thousands of parrots of the Sector 21 bird sanctuary will loose their home as the UT Administration has proposed to construct an e-Sampark centre in the sanctuary. Sources said the administration has decided to construct an e-Sampark centre in the bird sanctuary adjacent to a tubewell located there.





A Tribune photo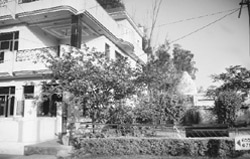 Encroachments galore in Mohali
Mohali, April 26
Encroachments on greenbelts and public parks are increasing by the day in the town with offenders indulging in violations and irregularities with impunity.




An encroachment in the greenbelt area in Phase III-A, Mohali. Tribune photo: Vicky Gharu
Power shortage irks residents of Kalka, Pinjore
Panchkula, April 26
Even as sufficient power supply is available for residents here, the other parts of this district including Kalka, Pinjore, Raipur Rani and Barwala were facing severe power cuts.
Oustee opposes laying of sewer
GMADA says it has clearance
Mohali, April 26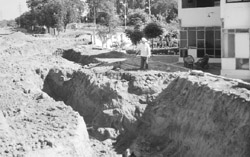 Family of an original oustee of Chandigarh is fighting a losing battle with the Greater Mohali Area Development Authority (GMADA) to save his land in Sohana village that had been allotted to him following its displacement in 1950's.


Digging work to lay down the sewer in progress near the house of Dr Sher Singh, an oustee, in Sector 77 of Mohali. Tribune photo: Vicky Gharu
Gill's agenda: Right to contest for golfers
Chandigarh, April 26


For Birinder Singh Gill, who was re-elected the president of the Chandigarh Golf Club here today, getting professional golfers the right to contest in the club elections will be the topmost agenda. Revealing his roadmap for development of the club during his forthcoming term, Gill said, "My preference is to get the professional golfers the right to contest." "Thsis time no stone will be left unturned for the purpose. The issue will be taken up at the EGM (extraordinary general body meeting) scheduled to be held on June 30 where we will try to resume the right to contest for our professional golfers," said Gill.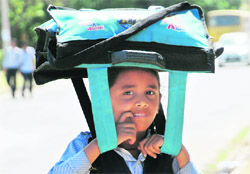 Mercury rises again, touches 39.7° C
Chandigarh, April 26
After a few days of respite from the heat wave, maximum temperature in the city and neighbouring areas of Punjab and Haryana have started rising again.


A schoolgirl uses her bag to shield herself from the sun on a hot Monday afternoon at Sector 26, Chandigarh. Tribune photo: Nitin Mittal
Consumer body condemns power tariff hike
Mohali, April 26
The Consumer Protection and Awareness Council has condemned the Power Board for hiking tariff, which will prove to be a great financial burden on residents.
Liquor vends shut down
Mohali, April 26
The illegal vends that had sprung up in Zirakpur along Punjab's border with UT have been closed down.
Bank donates ambulance
Chandigarh, April 26
The State Bank of India today donated an ambulance to the Indian Red Cross Society. Rita Bhattacharyya, wife of SK Bhattacharyya, managing director and CCRO, SBI, handed over the keys of the ambulance to Ashok Behal, secretary, Indian Red Cross Society.
Census control room
Chandigarh, April 26
For sorting out queries related to house listing, the National Population Register has set up a control room in the Office of Director of Census Operations, Chandigarh, at the Janganana Bhawan, Plot No. 2-B, Sector-19, Madhya Marg.
Punjabi journalist honoured
Chandigarh, April 26
Mehar Singh Rawel Memorial Charitable Trust today honoured Punjabi journalist Kirat Singh Inqulabi, Editor of Jehlam, Srinagar, at an award function at Vivek High School.


City Parks not so rosy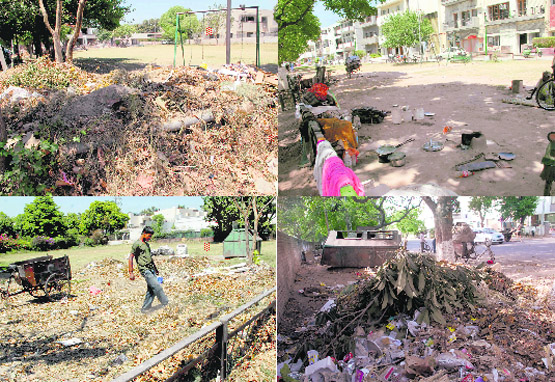 Once a beautiful park, this Sector 35 park is crying for the Municipal Corporation's attention
Belongings of an owner of a dwelling unit lie in the open defacing a park in Sector 22
A safai karamchari does a routine inspection of municipal waste waiting to be lifted in Sector 8
Waste lying on a road with a municipal garbage container in the background in Sector 19 Tribune photos: Manoj Mahajan
Students apprise DUI of staff crunch
Chandigarh, April 26
Students of Danwantari Ayurvedic College, Sector 46, affiliated to Panjab University, today met the Dean University Instructions (DUI) regarding faculty crunch at their college.
UGC NET Exam
Errors in online form will be fixed
Chandigarh, April 26
Amidst confusion among students on the process of filling up form for UGC's National Eligibility Test (NET), the UGC today informed the Punjabi Department at Panjab University that any errors in the online filling up of forms by students could be rectified on the manual form at the centre in PU.