M A I N N E W S
Hydropower Sharing
SC ultimatum to Centre
Asks govt to hold meeting with HP, Punjab, Haryana, Rajasthan in 3 weeks
R Sedhuraman
Our Legal Correspondent
New Delhi, April 29
The Supreme Court today directed the Centre to convene within three weeks a meeting with Himachal Pradesh, Punjab, Haryana and Rajasthan in an effort to arrive at a "negotiated settlement" of the dispute over the sharing of hydropower generated from the Bhakra and Beas projects.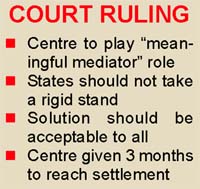 "Having regard to the nature of the dispute, the parties involved, the grievances, problems, aspirations and hardships of the people and the states concerned, we are of the view that before examining the matter on merit" the Union Government should make an effort "to bring all the parties to the dispute to a negotiated settlement," a Bench headed by Justice RV Raveendran said in the order.
The Bench, which included Justice RM Lodha, made it clear that the Centre should "act as a meaningful mediator to find a solution mutually acceptable to all the parties" and the states involved in the dispute should not adopt a rigid stand.
Further clarifying that the meeting to be held within three weeks would only be a beginning, the apex court granted three-month time to the Centre for completing the process of arriving at a negotiated settlement.
In the order, the court recorded the claims made by Himachal Pradesh in the original suit -- 12 per cent free power from the projects located in the mountain state, 7.19 per cent on the basis of the population transferred while carving it out from Punjab and 2.5 per cent as the share from the Punjab State Electricity Board (PSEB).
The court also took note that Punjab, Haryana and Rajasthan had denied the claims, as the sharing of power was covered by agreements/arrangements which were already in place. "There is no legal basis for the claim" of 12 per cent free power, the Bench recorded, citing these states' stand.
The case also involved the "binding nature of the agreement said to have been reached" on April 17, 1967, and an arrangement on March 30, 1978. While Himachal submitted that these were tentative, the defending states contended that except with regard to the Beas project-2, all other issues had been decided conclusively. "This is also an issue under consideration," the court clarified.
"We do hope that the parties would approach the problem with a view to settling it rather than standing on formal legal stands which may come in the way of the Central government acting in a meaningful manner," the court said in the order.
Punjab and Haryana informed the court that they were agreeable to the Centre playing a mediator's role. Appearing for the Centre, Additional Solicitor General Mohan Jain and L Nageshwar Rao said Himachal was a highly industrialised and power-surplus state. The state was not picking up even the 2.5 per cent power allotted to it, Rao argued.