PUNJAB
HARYANA
JAMMU & KASHMIR
HIMACHAL
REGIONAL BRIEFS
NATION
OPINIONS
LETTERS
BUSINESS
SPORTS
WORLD
Friday, April 30, 2010, Chandigarh, India
Updated at 3:00 am (IST)

Summit leads to thaw in Indo-Pak ties
Manmohan, Gilani ask foreign ministers to meet soon for 'substantive dialogue'
Thimphu, April 29
The ice has started melting. Prime Minister Manmohan Singh and his Pakistani counterpart Yousaf Raza Gilani today held their first bilateral meeting in nine months to end the diplomatic stalemate in ties between their two nations since the 26/11 Mumbai terror attacks.
SAARC Summit Thimphu, April 28-29
Consensus on climate change, trade
The 16th SAARC Summit ended here on Thursday with Prime Minister Manmohan Singh and other South Asian leaders adopting the 'Thimphu statement' on climate change, signing an agreement on trade in services and expressing their firm resolve to stamp out terrorism from the region.


Indo-Pak activities dominate summit
CAST YOUR VOTE
Should India and Pakistan resume composite dialogue?

EDUCATION
JOBS & CAREERS
HEALTH & FITNESS
SCIENCE & TECHNOLOGY
REAL ESTATE

SPORTS & WELLNESS
India rolls out first indigenous stealth warship
Mumbai , April 29
India has effected a generational shift in its warship-building capability by commissioning INS Shivalik — the first indigenously built stealth frigate that is the biggest in its class in the world. The ship, which is 143 metres long, can tactically fire weapons even before the enemy detects it. The hard-to-detect warship will form a crucial component of the Indian Navy. It is equipped with a mix of Indian, Russian, Israeli and western weapons and sensors.
BJP's volte-face: Overnight, Soren again alliance-worthy!
New Delhi, April 29
A day after castigating outgoing Chief Minister Shibu Soren as unreliable and undependable, the BJP now appears to be coming to an understanding with the JMM to form a government in Jharkhand. BJP parliamentary party spokesman Gopinath Munde said all party MLAs led by state chief and Deputy Chief Minister Raghubar Das are scheduled to meet Governor MOH Farook and submit their letter of withdrawal to this government.
UNION BUDGET 2010-11
RAILWAY BUDGET
2010-11
NDA 60 Glorious Years
1857 The First Challenge
E - Revolution 2005:
A Two-day IT conclave
Assembly Elections - 2005
Turbans
Chandigarh is 50
125 Years of The Tribune
India: The Tasks Ahead
India at Sixty
A Tribune Supplement
EARLIER FEATURES
On Sundays
On Saturdays
Lok Sabha passes Finance Bill
New Delhi, April 29
Lok Sabha today passed the Finance Bill-2010-11 with Finance Minister Pranab Mukherjee announcing special relief packages for coffee growers, and tax concessions for healthcare and realty sectors, but there is no change in levies on petroleum products or service tax on air travellers.
Hydropower Sharing
SC ultimatum to Centre
Asks govt to hold meeting with HP, Punjab, Haryana, Rajasthan in 3 weeks
New Delhi, April 29
The Supreme Court today directed the Centre to convene within three weeks a meeting with Himachal Pradesh, Punjab, Haryana and Rajasthan in an effort to arrive at a "negotiated settlement" of the dispute over the sharing of hydropower generated from the Bhakra and Beas projects.
Rahul takes Mirchpur by surprise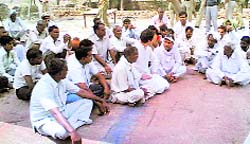 Hisar, April 29
Congress General Secretary Rahul Gandhi today paid a surprise visit to Mirchpur village which saw violence against Dalits a few days ago.

Congress general secretary Rahul Gandhi (fourth from left) offers condolences to victims of Dalit violence in Mirchpur village near Hisar on Thursday. A Tribune photograph

Jharkhand heads for President's Rule
April 29, 2010
UPA bulldozes Oppn's cut motions
April 28, 2010
Amarinder's expulsion quashed by SC
April 27, 2010
IPL final sees Modi's ouster
April 26, 2010
Modi lobbies for support as BCCI plans his ouster
April 25, 2010
Oppn wants JPC probe into IPL
April 24, 2010
Modi grilled third time, it is BCCI's turn today
April 23, 2010
Taxmen raid IPL franchisees
April 22, 2010
Modi inches closer to exit
April 21, 2010
IPL guilty won't be spared: Pranab
April 20, 2010