PUNJAB
HARYANA
JAMMU & KASHMIR
HIMACHAL
REGIONAL BRIEFS
NATION
OPINIONS
LETTERS
BUSINESS
SPORTS
WORLD
Every Wednesday & Saturday
Epidemic fear looms large over Kandi areas
Majalata, April 27
With people of the Kandi belt being forced to consume contaminated water, fear of an epidemic looms large over Majalata and its adjoining localities. As most of the natural fresh water springs (bowlis) have been depleted due to prolonged dry spell and the authorities have not made any alternative arrangement to provide potable water in this area, people are forced to drink water diverted from nullahs.
Army expedition with a message
Jammu, April 27
TRIDENTS, an artillery unit of the Indian Army, successfully conducted a trekking expedition from Chamba to Baijnath recently.
Combine harvester a hit among farmers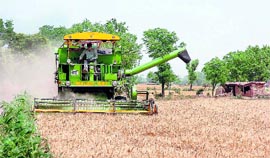 Jammu, April 27
Farmers are fast understanding the importance of using the cutting-edge technology in improving the production.

A farmer uses a combine harvester at Londi village in Kathua. Tribune photo: Anand Sharma

NREGA labourers feel cheated
April 24, 2010
Tunnel to facilitate traffic on Srinagar-Leh highway
April 21, 2010
'Cong is against divisive policies'
April 17, 2010
Crops lost third time, courtesy scanty rain
April 14, 2010
Restive employees in no mood to relent
April 10, 2010
Oppn cries foul as civic poll postponed
April 7, 2010
Hindus, Muslims pray together here
April 3, 2010
Mafia continues to gobble up govt land
March 31, 2010
Kashmir too faces heat
March 27, 2010
Proposed policy stirs debate
March 24, 2010