PM's late arrival delays opening
Krishna calls for stamping out terror from S Asia
Ashok Tuteja reports from Thimphu
On the eve of the two-day SAARC summit beginning here on Wednesday, India identified terrorism as the most serious threat to economic stability and called upon SAARC countries to speedily ratify regional instruments such as the convention on mutual legal assistance in criminal matters to fight the scourge.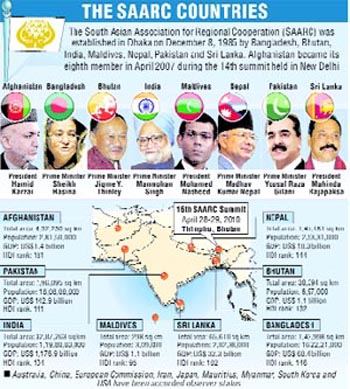 "The South Asian region is afflicted by this (terrorism) menace. The time has come for us to rally against the forces of terrorism that seek to divide and weaken our societies,'' External Affairs Minister S M Krishna said addressing the SAARC Council of Ministers' meeting.
Since its inception in 1985, concerns over terrorism and the need for greater regional cooperation has prominently figured in the SAARC agenda but no concrete strategy has been evolved by member states so far to grapple with it.
Starting from the SAARC Regional Convention on Suppression of Terrorism in Kathmandu in 1987, strong consensus existed among member states, but only on paper, for regional counter-terrorism cooperation.
A Terrorist Offences Monitoring Desk was established in 1995 in Colombo to support the implementation of the convention by "collecting, assessing and disseminating information on terrorist offences, tactics, strategies and methods".
An Additional Protocol to the SAARC Regional Convention on Suppression of Terrorism was signed in 2002 but it came into force on January 12, 2006, following ratification by all member states. Finally, a Convention on Mutual Legal Assistance in Criminal Matters was signed in August 2008 but is yet to come into force pending ratification by all members.
Despite various such initiatives, terrorism continues to be the biggest scourge that afflicts development in South Asia. An effective, common framework of action is fundamental to the process of countering terrorism.
An analysis of the current situation in South Asia, two decades after the signing of the first convention, shows that little has been achieved. There is no country in the region that has remained unscathed by terrorist attacks. Despite this, there has been little coordinated action, intelligence-sharing or any other form of meaningful cooperation. The region has become a battleground for international terrorism, led by the Al-Qaida. On top of it, India accuses Pakistan of promoting state-sponsored terrorism, through jehadi organisations like Lashkar-e-Toiba (LeT) and Jaish-e-Mohammed (JeM).
Inauguration delayed
Meanwhile, the IPL controversy and new allegations about the government tapping the phones of prominent leaders in India have delayed the arrival of Prime Minister Manmohan Singh in the Bhutanese capital, thus forcing the Bhutan Government to reschedule the inauguration of the summit.
Manmohan Singh will be the last leader from the eight-member states to arrive in Thimpu, causing the inauguration to be put off to Wednesday afternoon instead of morning.
Consequently, Indian officials are frantically rescheduling the bilateral meetings of the Indian Prime Minister.
Report Card
No system yet of intelligence sharing
No coordination on counter-terrorism
Convention on legal assistance signed in August, 2008 but yet to be ratified by all members.
South Asian Free Trade Area (SAFTA) accord implemented half-heartedly