PUNJAB
HARYANA
JAMMU & KASHMIR
HIMACHAL
REGIONAL BRIEFS
NATION
OPINIONS
LETTERS
BUSINESS
SPORTS
WORLD
D E H R A D U N P L U S
1.64 cr took dip on April 14
Satellite images eliminate guesswork from Kumbh figures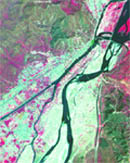 Dehradun, May 1
No more estimation. It's official now that 1.64 crore pilgrims took a dip in the Ganga on the Main Royal Bath (Pramukh Shahi Snan) at Haridwar during the Maha Kumbh 2010.

A merged picture of satellite images from Cartosat-2 and LISS-IV of the Maha Kumbh area during the Pramukh Shahi Snan on April 14 released by the Uttarakhand Space Application Centre, Dehradun.
Samiti members purify ghats made 'impure' by Cabinet
Haridwar, May 1
In a unique protest against the Uttarakhand Cabinet meeting that was held at the Malviya Deep Ghat in Haridwar yesterday and which generated nationwide coverage, activists of a local social organisation cleaned the same ghats today.
Mela cops end Kumbh duty with 'peshwayi'
May 1, 2010
Akhada Parishad against removal of structuresApril 30, 2010

Maha Kumbh ends


April 29, 2010
Bharat Bandh: Little impact in U'khand
April 28, 2010
Plastic piles upon Char Dham circuit
April 27, 2010
BJP corners Satpal Maharaj
April 26, 2010
3 nations join hands to save holy land
April 25, 2010
Earth Day: Experts for joint efforts to conserve biodiversity
April 23, 2010
U'khand hits a gold mine
April 22, 2010
Doon's new traffic hazard
April 21, 2010
Survival of Indian circus hangs in balance
April 20, 2010