State school board to revamp exam system
Jammu, May 1
The State Board of School Education (BOSE) finally broke its silence over the paper leak issue here today and decided to revamp the examination system. "Incidents of paper leak have revealed that all is not well," said BOSE chairman Desh Bandhu Gupta. Gupta said the inquiry into paper leak was still going on and the board had suspended Mohan Singh Jamwal, Section Officer, who was found involved in paper leak scam.
Students pledge to make water provision for birds
Jammu, May 1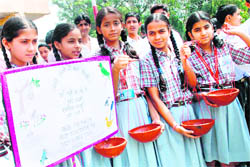 On Save Birds Day today hundreds of students gathered at the Dogra Sadar Sabha office in the city and pledged to save the feathered species. They pledged to be humane towards the birds and make a provision of water for them during the searing summer. The function was organised by the Dogra Sadar Sabha in which the Numberdars/Chowkidars Association, J&K Ex-Services League, J&K Paryavaran Sanstha and students of Dogra Law College, Dogra College of Education and Dogra Higher Secondary School participated in large numbers.
Students carrying earthen pots filled with water for birds gather near the Civil Secretariat on Save Birds Day in Jammu on Saturday. Photo: Inderjeet Singh
Social activist Ram Sudhir honoured
Jammu, May 1
In a function organised by Anjuman Traqqi-e-Urdu Hind and Nami Dogri Sanstha, Sanstha Samman was conferred upon Ram Sudhir, a renowned social, literary and cultural activist.
Intrusion bid by Pak ultras in Ballard area
Samba, May 1
After a fierce gun-battle with a group of heavily armed Pakistan militants recently, the BSF foiled a major intrusion bid at the forward post of Ballard on the international border in the Ramgarh sub-sector of Samba district during wee hours today.
Need to fight faulty economic policies: Trade unions
Jammu, May 1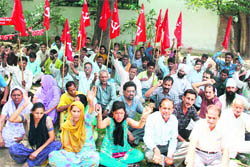 To observe Labour Day that marks social and economic achievements of international labour movement, a large number of associations held functions, rallies and demonstrations in the city today.




CITU members protest on Labour Day demanding implemention of labour laws and better working conditions, in Jammu on Saturday. Photo: Inderjeet Singh
Woes of working class on the rise: Tarigami
Srinagar, May 1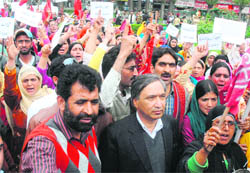 State president of the Centre of Indian Trade Union (CITU), Mohammad Yusuf Tarigami has said the woes of the working class have been increasing and the employees are being suppressed, subjected to harassment and unwarranted force whenever they raised their voice.

CPM state secretary MY Tarigami, along with ASHA workers, holds a protest march to Lal Chowk on May Day in Srinagar on Saturday. ASHA workers were demanding regularisation of their services and increase in wages. Photo: Amin War
Shafiq's family yet to come to terms with tragedy
Srinagar, May 1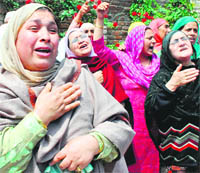 The family of 45-year-old Shafiq Ahmed Sheikh, who became the second victim of stone throwing in the Kashmir valley in less than two months, is unable to come to terms with the tragedy. Shafiq Ahmed Sheikh, an orderly with the state Board of School Education, Bemina, was on his way to his office yesterday morning when he was hit by a stone thrown at the minibus he was travelling in by a group of miscreants to enforce the strike call given by separatist leader Syed Ali Shah Geelani.
Relatives of Shafiq Ahmed Sheikh, who died after one of the stones thrown by protesting youths hit him in the head on Friday, wail inconsolably in Srinagar on Saturday. Photo: Amin War
'Need to educate villagers about Civil Defence role'
Jammu, May 1
Realising the importance of educating villagers in disaster management, the Civil Defence Organisation has decided to organise awareness camps in the rural areas so that villagers are made aware of all techniques of self-defence in case of any disaster. The first such camp was held at Ramnagar, about 38 km away from Udhampur, yesterday. IG (Civil Defence) S Gopal Reddy was the chief guest on the occasion.
'Ministers oppose transfer policy due to lust for power'
Jammu, May 1
Harsh Dev Singh, MLA from Ramnagar and working chairman of the Panthers Party, has ridiculed coalition government ministers for the high drama enacted during the course of the Cabinet meeting over the issue of transfer policy.
Hustle and bustle back in Kashmir Haat
Srinagar, May 1
Once witness to large scale bloodshed and turmoil, hustle and bustle has once again returned to Kashmir Haat, popularly known as Numaish in the heart of Srinagar city.
Indian, Chinese army men exchange greetings
Srinagar, May 1
On the invitation of the People Liberation Army (PLA), a border personnel meeting of Indian and Chinese armies was held at the Chinese Border Personnel Meeting Hut at Chushul in Ladakh today.
Corruption in issuance of job cards alleged
Harinara-Pattan, May 1
Residents of this rural area, about 30 km from the city centre, allege corruption and nepotism in issuing job cards under the National Rural Employment Generation Act (NREGA).
Educational tour flagged off
Srinagar, May 1
DIG (North Kashmir) AQ Manhas today flagged off an educational tour of 67 students of various schools of Sopore and Rafiabad areas.
One killed, 30 hurt in road mishaps
Jammu, May 1
One person was killed and 26 injured in different accidents in Kathua and Reasi district today. In Kathua, a tempo collided with an Army vehicle at Chadwal. As many as 15 persons were hurt in the mishap whereas one Pardeep Kumar of Hyderabad died on the spot.