Darbar Move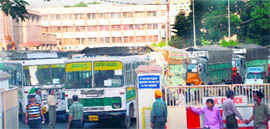 SRTC buses and trucks with staff and records move out of the Civil Secretariat
in Jammu on Sunday. A Tribune photograph

2 VDC members hurt in militant attack
Jammu, May 2
Two Village Defence Committee (VDC) members were seriously injured when militants struck their houses in a remote village in Doda district last night. Official sources said a group of militants hurled grenades and fired indiscriminately at the houses of Chuni Lal (50), an ex-serviceman, and Rakesh Kumar (18) in Khangana village in the Koti area last night.
24 hurt in road mishap
Jammu, May 2
As many as 24 passengers sustained injuries when the minibus in which they were travelling in skidded off the road and rolled down at Balnagar of Udhampur district this morning, the police said.
A peacock quenches its thirst at the Manda Wildlife Sanctuary in Jammu. Photo: Inderjeet Singh

NGO's plea on VC
Jammu, May 2
The People's Action and Public Accountability (PAPA), a non-governmental organisation, has appealed to the Central government to appoint a non-controversial person as Vice-Chancellor of the Central University, Jammu.
CRPF to have exclusive battalion
Tackling communal clashes
Jammu, May 2
The Central Reserve Police Force (CRPF), on the lines of Rapid Action Force (RAF), will soon have an exclusive battalion trained in tackling communal clashes, unruly crowds and mob frenzy in the restive state.
Gujjars demand separate channel
Jammu, May 2
Demanding opening of a separate channel by declaring Programme Generating Facility (PGF), Rajouri, as DD Gojri, the Gujjars and Bakerwals of the state today expressed strong resentment against non-representation to their mother tongue in the daily telecast of a programme aired on various channels of Doordarshan in the state, including Kashir Channel, DD Srinagar and DD Jammu.
Plan to overcome irrigation water scarcity
Jammu, May 2
To cope with the prevailing dry spell in the state, especially in the Jammu region, the government has decided to dig more tubewells to provide adequate irrigation facilities to farmers.
Golf course to be developed on modern lines
Jammu, May 2
Deputy Chief Minister Tara Chand yesterday said the golf course at Sidhra, which is on the outskirts of the city, would be developed on modern lines to attract players from all over the world.
SIDCO manager held for graft
Jammu, May 2
The Jammu wing of the State Vigilance Organisation (SVO) yesterday raided the office of the State Industrial Development Corporation (SIDCO) at the Bahu Plaza area and arrested its manager red-handed while accepting a bribe.
2 minors hurt in 'explosion'
Jammu, May 2
Two minors, both brothers, sustained splinter injuries when an explosive went off in a field in Dhar Dachhan village in Barchella area of Doda district this evening.
Sarhand Fateh Diwas celebrations from May 12
Jammu, May 2
Tercentenary of the Sarhand Fateh Diwas and establishment of the Sikh Raj by Baba Banda Singh Bahadur will be celebrated with effect from May 12 to 15.
Cop shoots senior, kills self
Jammu, May 2
A special police officer (SPO) of the General Railway Police (GRP) allegedly committed suicide after killing his senior officer at Chhan Roriyan village in Hiranagar of Kathua district late last night, the police said.
Induct Labana community member into OBC board
Jammu, May 2
Members of the Labana Mahasabha today highlighted their demands at a meeting which was attended by Kuldeep Verma, Vice-Chairman, Other Backward Classes (OBC) Advisory and Development Board.
English comedy 'Box and Cox' staged
Jammu, May 2
English comedy 'Box and Cox' was staged here today in Natrang's weekly theatre series, Sunday Theatre. Written by a 19th century English playwright John Maddison Morton, the play was directed by Balwant Thakur.