Mindless Waste!


While residents are facing water shortage, there is no check on its free flow at a public toilet in the Leisure Valley, Sector 10, Chandigarh, on Monday. This has been going on for the past four days. Tribune photo: Manoj Mahajan
Councillors to head for Gangtok
Chandigarh, May 3
While residents of the city continue to swelter in the summer heat, almost all municipal corporation (MC) councillors have opted to undertake a study tour to the cooler environs of Gangtok in Sikkim at taxpayers' expense.
Expenditure On Vehicles Used By VIPs
DC office conceals more, reveals less
Chandigarh, May 3
When it comes to providing details of expenditure incurred on vehicles used by VIPs, the office of the Deputy Commissioner (DC) knows best how to dodge queries filed even under the RTI (Right to Information) Act.
Ruling On Kasab
Justice has prevailed, say victims' neighbours
Mohali, May 3
As the nation watched the lone surviving 26/11 gunman, Ajmal Amir Kasab, being held guilty today of the audacious Mumbai attacks, that left 166 people dead, neighbours of two local families who had lost their children in the terror attacks, expressed appreciation over justice having ultim- ately prevailed.



A WELCOME ILLUSION: A mirage on Sector 9-10 road in Chandigarh. Tribune photo: Parvesh Chauhan
List problems, panel tells Parsavnath
Chandigarh, May 3
In the ongoing tussle between the Chandigarh Housing Board and Parsavnath Builders over the Prideasia Housing Project, the ball is again in CHB's court for solving the matter.
10 village heads meet Fin Secy
Chandigarh, May 3
After a delegation of villagers of Daria village recently submitted a representation to the UT Adviser over levy of entry taxes, sarpanches of 10 villages today met with Finance Secretary Sanjay Kumar in this regard.
CAT rejects nurses' plea on seniority
Chandigarh, May 3
The Central Administrative Tribunal (CAT) today rejected the appeal filed by three staff nurses of Government Medical College Hospital (GMCH), Sector 32, claiming seniority as per their date of recruitment.
Relief for 53 re-employed PGI workers
Chandigarh, May 3
Aggrieved by the non-implementation of their demand for pay fixation on the basis of service rendered in Army, 53 re-employed ex-servicemen recently got a relief after the Central Administrative Tribunal (CAT) directed the Post-Graduate Institute of Medical Education and Research (PGI) administration to do the needful to ensure fixation of their pay and other benefits within a period of four months.
Deploy guards within 15 days, MC tells firm
Mohali, May 3
The municipal council has asked the private company that has put up security gates in various parts of the town to provide watchmen to man these within 15 days and threatened the removal of advertisements displayed on these gates if the contractor failed to work according to the terms of the agreement.
Revised Mohali MC budget cleared
Mohali, May 3
A revised budget of Rs 4,398.19 lakh of the Mohali Municipal Council for 2010-11 was cleared at a special meeting of the civic body held here today even as the House cleared estimates for development works worth over Rs 7 crore.
Amateur artistes can't book Tagore Theatre
Chandigarh, May 3
Non-artistic babus have pushed the Tagore Theatre out of the reach of amateurs. With arbitrary high rentals, Rs 25,000 and Rs 50,000, plus taxes, amateurs in the city are at the receiving of the whims of the bureaucracy, which otherwise splurges lakhs on "official cultural events" to promote entertainment in the city.
Summer Eye Care
Take care of your eyes this summer
Chandigarh, May 3
Come summer and we begin hearing about skin problems and remedies to save oneself from the scorching heat but what about other body parts, our eyes need special care which too bear the brunt of the heat.
BJP councillors hold meeting
Chandigarh, May 3
A meeting of municipal councillors of the BJP was here held under the chairmanship of Sanjay Tandon, local unit president, to review preparations for "Abhinandan Samaroh" of BJP president Nitin Gadkari here on May 12. Leader of the opposition in municipal corporation Gurcharan Dass Kala, Rajesh Gupta, Ramlal, Surinder Jagota, Anil Dubey, Sunita Chaudhary, Rajkumari Mishra and Sarita Sharma, all councillors, attended the meeting.
Alok Kumar joins as SSP (HQ)
Chandigarh, May 3
Alok Kumar, a 1996-batch IPS officer, joined as UT SSP (Headquarters and Intelligence) here today.


Heading for a crash course!



Unaware of the lurking danger, students stand at the open door of a moving bus; scramble to get a ride; and dangle from a door in Chandigarh on Monday. Tribune photos: Manoj Mahajan
PU to check radioactive waste
Chandigarh, May 3
A death caused by the negligent disposal of radioactive Cobalt-60 from Chemistry department of the University of Delhi, a few days ago, has prompted Panjab University to constitute a standing committee to check the disposal of radioactive, chemical, and bio-medical waste in its science departments.
7-member panel inspects Dhanwantri College
Chandigarh, May 3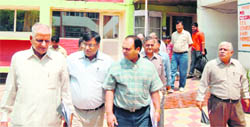 Having obtained permission from the Panjab and Haryana High Court to inspect Sri Dhanwantri Ayurvedic College, Sector 46, a seven-member committee of Panjab University examined the college and hospital here today.


PU committee members during the inspection of Dhanwantri Ayurvedic College, Sector 46, Chandigarh, on Monday. A Tribune photograph
PG diploma course in statistics to go online
Chandigarh, May 3
Panjab University's School of Open Learning (USOL) is all set to start "online version" of its 10-year-old postgraduate diploma course in statistics with a newly introduced "upgradation facility" in the syllabus.
Mass Reappear Case
Chairperson to submit report to VC
Chandigarh, May 3
Panjab University's Vice-Chancellor RC Sobti today ruled out the possibility of any probe to penalise first examiner, who checked papers of land law of fifth semester students of the department of laws, which resulted in a mass reappear.
Hi-tech system installed at PU library
Chandigarh, May 3
Issuing and returning books in Panjab University's AC Joshi library will now be easy, as the much awaited Radio Frequency Identification Device (RFID) system worth Rs 1.75 crore, which was installed in the library more than a year ago, was today inaugurated by Vice-Chancellor RC Sobti.