Cong MLA, BJP workers fight over water
New Delhi, May 4
Demand for adequate water supply by residents of Jhilmil led to an argument between Congress MLA from Shahadra, Narender Nath, and BJP activists. Later the MLA lodged a complaint with the Farsh Bazar police station, alleging that the BJP activists entered his house and used unparliamentary language.
DU admission process may start sooner
Admission forms may be sold from May 28 to June 11
New Delhi, May 4
Delhi University (DU) might end its admission process earlier this year as the administration is planning to squeeze in the semester system on the undergraduate level in some courses.
MBBS students boycott classes
Protest poor infrastructure in Vardhman Mahavir Medical College
New Delhi, May 4
Infrastructural set-ups for basic amenities do exist in Vardhman Mahavir Medical College but without any maintenance. Over 450 under-graduate students of the college have gone in for an indefinite boycott of classes in protest.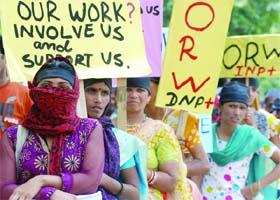 People living with HIV/AIDS hold a demonstration demanding government jobs and highlighting their right to essential medicines in New Delhi on Tuesday. Tribune photo: Manas Ranjan Bhui
Book bogus voters, DC tells SDM
Sohna (Gurgaon), May 4
Gurgaon deputy commissioner Rajender Kataria has directed Sohna SDM Naresh Narwal to get FIRs lodged against those having more than one voter identity card made in their name.
1984 riots
Order reserved in Sajjan case
New Delhi, May 4
A city court today reserved its order for May 15 after conclusion of arguments on whether charges should be framed against Congress leader Sajjan Kumar and others for allegedly killing five people during the 1984 anti-Sikh riots.
No change in power tariff, says govt
New Delhi, May 4
The city government has written to the Delhi Electricity Regulatory Commission (DERC) to communicate to the discoms that the tariff of various categories would stay at the same level as that of last year.
Snatchers shoot chasing man
Ghaziabad, May 4
Two bikers, fleeing after snatching a gold chain from a woman in Vaishali, yesterday shot at two property dealers chasing them. One of the realtors died, while the other is fighting for his life in the Paras Hospital at Vaishali.
ADM booked for fraud in land relief case
Greater Noida, May 4
A local court has ordered that a case be registered against eight officials, including an ADM (land) and a tehsildar, in connection with the alleged payment of land compensation from the office of DM (LA) to a bogus claimant.
Lifer on the run for 10 years arrested
New Delhi, May 4
The west district police has arrested a 39-year-old man, on the run for the past 10 years after jumping bail while serving life imprisonment for murdering a teenaged stage dancer in 1992.
Ex-staffer held for burglary in office
Tribune News Service
New Delhi, May 4 The police has arrested a former employee of Hindustan Times Media Limited for attempting a burglary at its office in Jhandewalan on April 25. Ashish Verma along with his accomplice JP Singh, intruded into the media office and tried to open the locks of the cash box.
Life term for raping, murdering minor
New Delhi, May 4
An e-court today sentenced two men to life term for the murder and rape of a minor girl seven years ago. Presiding over the first paperless e-court of Delhi, additional sessions judge Sanjay Garg handed down life term to Amzad and Sagir. Holding them guilty, the court also slapped a fine of Rs 3,000 on each of them.
Middle schools to be upgraded
New Delhi, May 4
Delhi education minister Arvinder Singh Lovely today reiterated that all middle schools of the government would be upgraded to the senior secondary level that would help in working out admission problem in senior classes.
May could be less hot
New Delhi, May 4
Delhi experienced a hot day today, with the maximum temperature crossing the 40 degree-mark. "The maximum temperature recorded in Delhi today was 41.2 degree Celsius and the minimum was 26.8 degrees, said a Met official.
Pan vendor electrocuted
New Delhi, May 4
A 40-year-old man was electrocuted near his residence in west Delhi today. According to the police, the incident was reported from the Baljeet Nagar area around 6 am and the victim has been identified as Ram Sunder Pandey, a pan vendor.