Colour me red


A gulmohar tree in full bloom in Ludhiana on Friday. Photo: Inderjeet Verma
Hoax bomb call on Shatabdi triggers panic
Train delayed by 3 hours
Ludhiana, May 7
Panic gripped hundreds of passengers, including women and children, aboard the 2029 Swarn Shatabdi between New Delhi and Amrtisar as a hoax bomb call was received by railway officials just as the train had left from New Delhi.
Excise dept's website stuck in time
Ludhiana, May 7
The official website of the excise and taxation department (www.pextax.com) is taking traders for a ride. The main objective of the site is to provide first-hand information to the public, but it has lost significance since some columns have not been updated since July.
Man kills wife, flees with child
Ludhiana, May 7
A man reportedly killed his wife in their one-room rented quarter at Dhandari and fled with his child. The matter came to light late last evening when neighbours broke open the door after the room started emitting foul smell.


Tea vendor's wife gets relief after long wait
Ludhiana, May 7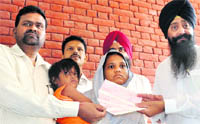 The state government today woke up from its slumber and provided financial support to Parvati, wife of Santosh Kumar, the brave tea vendor who died while helping the police nab a Babbar Khalsa terrorist, Balbir Singh Bhootna. She was given Rs 3 lakh during a function organised at Circuit House here today.

Santosh, wife of the tea vendor, being handed over cheques in Ludhiana on Friday. A Tribune photograph
Illegal Land Occupation
Panchayat mum, alleges villager
Doraha, May 7
A resident of Aloona Miana village in Payal has alleged illegal occupation of panchayat land by another resident of the village.
Truckers de-stress themselves
Ludhiana, May 7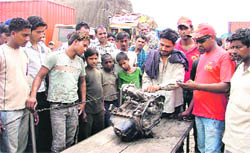 For the first time in the city, truckers have found a reason to cheer with a three-day "Truckers Fun Mela". The fair, organised to de-stress them and provide a break from their tedious routine, has attracted 500 truckers, helpers and auto-mechanics from the city as well as the surrounding areas.


A mechanic shows truckers the way to repair an engine in Ludhiana. A Tribune photograph
Gaps in new road on NH 1
Slightest slip could lead to disaster
Doraha, May 7
Even as the process of constructing a new road on the National Highway No.1 is going on, the slightest slip on the part of private contractors could lead to a catastrophe, commuters apprehend.
Tribune Impact
Boundary wall comes up at colony
Ludhiana, May 7
After waiting for more than a year, residents of HIG flats in Dugri Urban Estate Phase I heaved a sigh of relief as the boundary wall of a park in the colony was today reconstructed in the presence of senior PUDA officials and the police to prevent resistance from people of Jawaddi, an adjoining village.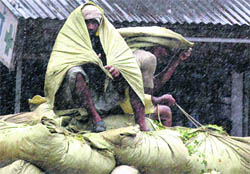 Showers bring relief from heat
Ludhiana, May 7
Light showers that lashed the city today brought respite to the people from the scorching heat conditions. PAU agrometeorologist Dr KK Gill said the rain had no negative impact on the crops. Instead, it would lower the temperature, which was good for vegetables and fruits.

A worker covers himself with a sack as rain lashed Ludhiana on Friday. Tribune photo: Himanshu Mahajan
Manufacturers take to Chinese components
Fluctuating raw material prices to blame
Ludhiana, May 7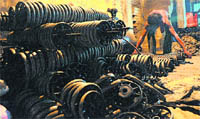 Instability in the prices of raw material is giving tough time to the city's sewing machine industry as it is leading to rise in the production cost, thereby affecting sales. Manufacturers are left with no other option but to import components from China at a low cost. City contributes 80-90 per cent to the total production of the domestic sewing machine industry.
A worker assembles sewing machine parts at an industrial unit in Ludhiana. Tribune photo: Himanshu Mahajan

Films are my first love, says Aarya Babbar
Ludhiana, May 7
While Aarya Babbar's sister Juhi and mother Nadira consider theatre as the best medium to express, Aarya has a difference of opinion with the two. "Films are my first love. At present, I am paying more attention towards films and theatre has taken a backseat," said the actor. He is not interested in politics like his father Raj Babbar. Aarya and director Pankaj Batra were in the city to promote their film "Virsa" at Westend Mall.
Powercom fails to adjust bills
Ludhiana, May 7
The Chamber of Industrial and Commercial Undertaking has flayed the Powercom for issuing power bills for April without adjusting the extra amount paid by them last fiscal.
Suraksha samiti chief volunteers to hang Kasab
align="left">Ludhiana, May 7
Following the news of non-availability of a hangman for 22/11 Mumbai terror attack convict Ajmal Kasab, state president of the Akhil Bharatiya Hindu Suraksha Samiti has offered his services.
DPS wants students to use school transport
Parents oppose decision
Ludhiana, May 7
The school transport issue has cropped up again as the Delhi Public School authorities and parents of students have disagreed on the matter and heated arguments were witnessed between them during a meeting here yesterday.
200 donate blood
Ludhiana, May 7
In view of 19th International Thalassaemia Day and the World Red Cross Day, the department of transfusion medicine, DMCH, and the Punjab Thalassaemia Welfare Society today jointly organised the annual medicos voluntary blood donation camp at the hospital.


2 booked for abetting suicide
Ludhiana, May 7
The police today booked two persons after a businessman reportedly consumed poison and died at a private hospital here last evening.