The Green footprint
The NCR region seems to be in the grip of a 'green wave' with a number of eco-townships coming up, reports Geetu Vaid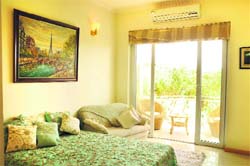 Development has its flipside too, as one can see in the case of our major cities that have become virtual concrete jungles in the race to accommodate the burgeoning population. The concept of energy-efficient office buildings and green offices is already popular in several metros. A number of projects promising a clean and serene lifestyle are coming up in the Delhi-NCR region hinting that the trend of green or eco-friendly homes is fast becoming popular.
Region shines on Lalit Group's radar
Sakshi Gulati
the Lalit Suri Hospitality Group, that operates luxury hotels under the brand name The Lalit, will invest Rs 1,200 crore on expanding properties in the the premium segment, said the group's chairperson and managing director Jyotsna Suri.
GREEN HOUSE
Weed out problem corners
Satish Narula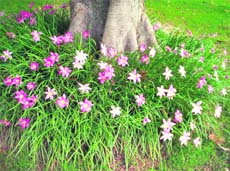 Those who have good experience in gardening know about the treatment to be given to different spots in the garden. However, for amateur gardeners it may be a problem. So let's discuss some of such "problem" spots.In the confines of a small garden where space is always a constraint, every inch of land has to be utilised judiciously. There are certain spots which are tough to handle e.g. the space under a tree, along the shady wall and at the sides, behind hedges and trees where sun rays hardly reach rendering the place barren.
BUILDING UP Cement sense - II
The strong bond
Sandeep Goel
Quality and strength are the key factors that should be kept in mind while selecting the right cement for your construction.
5 lakh affordable homes planned
Maharashtra Chamber of Housing Industry (MCHI) plans to develop five lakh affordable houses by 2015 in co-ordination with the state government.The total investment will be around Rs 15,000 crore and more than 500 builders will participate in the project.
High-end housing back in business
On the back of a revival in demand, real estate developers are again building super luxury apartments, say experts. Consultancy firms Jones Lang Lasalle Meghraj (JLLM) and Knight Frank India said there are about 7,000 such apartments to be delivered within a year in Mumbai alone, where the cost is not below Rs 4.7 crore for a single unit.
TAX TIPS
l Agricultural land holding
l Get confirmation from builder
l Judgement issue
l Gift to save tax
REALTY BYTES
ETA's $250 m housing project
Dubai : Dubai-based developer ETA Star Property is set to launch the first phase of an integrated township project worth $ 250 million in India this year and is looking to tap the housing demand in the country.