M A I N N E W S
Black bucks falling prey to stray dogs
Chander Parkash
Tribune News Service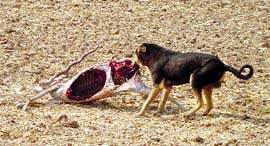 A stray dog eats the flesh of a black buck. Photo by writer
Abohar, May 8
Over the past few years, stray dogs have turned dangerous enemy of black bucks, which has acquired the honour of state animal in 1989 and is also proud to be the only antelope confined to the Indian subcontinent.
"Now, poaching by human beings is not a headache for us as it has become rare due to awakening among people and stringent law imposed for banning the same. Our main worry is that we have no solution to save black bucks from stray dogs as their killing has become rampant in the past few years," said one of the officials of state Wildlife Department.
As per official reports, in the past 16 months, about 25 black bucks had been killed by stray dogs in the sanctuary area spread over 13 villages, mostly inhibited by Bishnois- a predominantly agricultural Hindu community known for its love and sacrifices for saving the biodiversity, added another official.
"Last year, about 700 stray dogs were caught and taken away to faraway places from the sanctuary area and were released there so that they could not come back to this place," said Kulwant Singh, a wildlife guard.
"Due to the erection of barbed wire fencing and temporary walls around farms by farmers of the area, black bucks find no outlet to escape when being chased by stray dogs and hence got killed in most of the cases," he said.
"Stray dogs have also been killing blue bull, another protected animal, in this area," he said, adding that road accidents had also become a major source of causing physical harms to these animals.
Though number of injured black bucks and blue bulls were given treatment, most of them would die later on after they were released in the sanctuary, he added.
"Though the issue of the menace of stray dogs was taken with the authorities concerned, no solution has been worked out so far," claimed Harbans Singh Dhillon, district wildlife officer, admitting that stray dogs had posed a serious threat to the existence of the sanctuary.
Sanjeev Godara, a member of the Punjab State Wildlife Board, said effective and massive sterilisation of stray dogs was needed to put a check on their increasing population in the area.
(To be continued)