PUNJAB
HARYANA
JAMMU & KASHMIR
HIMACHAL
REGIONAL BRIEFS
NATION
OPINIONS
LETTERS
BUSINESS
SPORTS
WORLD
Sunday, May 9, 2010, Chandigarh, India
Updated at 3:00 am (IST)

BJP wins power tussle
To form govt in Jharkhand; decision on CM tomorrow
New Delhi, May 8
Jharkhand Chief Minister Shibu Soren will resign next week and pave the way to a BJP-led government in the state. In a joint announcement in the capital today, BJP and Jharkhand Mukti Morcha leaders confirmed that the JMM Legislature Party had agreed to offer unconditional support to the BJP-led government for the remaining four and a half years of the state assembly's life.
Clinton's blunt warning to Pak
Severe consequences if terror attacks traced to Pak: US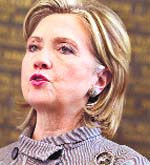 Washington, May 8
The USA has finally warned Pakistan that if a terror operation like the Times Square bombing attempt were to be successful and traced back to the country, "there would be very severe consequences".


World page: Pak to probe Shahzad-Taliban link
I think that there was a double game going on in the previous years, where we got a lot of lip service but very little produced. We've got a lot produced.— Secretary of State Hillary Rodham Clinton
CAST YOUR VOTE
Should India and Pakistan resume composite dialogue?

EDUCATION
JOBS & CAREERS
HEALTH & FITNESS
SCIENCE & TECHNOLOGY
REAL ESTATE

SPORTS & WELLNESS
First set of IPL papers given to BCCI, says Modi
New Delhi, May 8
Lalit Modi, the suspended chairman and commissioner of the Indian Premier League (IPL), has said the first set of documents related to the Twenty20 extravaganza the Board of Control for Cricket in India (BCCI) sought from him have been handed over.


To sue Clarke for defamation

I've been BCCI's enemy No. 1 for long: Modi
Black bucks falling prey to stray dogs
Abohar, May 8
Over the past few years, stray dogs have turned dangerous enemy of black bucks, which has acquired the honour of state animal in 1989 and is also proud to be the only antelope confined to the Indian subcontinent.
UGC gets CAG rap for doling out deemed tags
Recommendations of expert panel, state govt ignored in many cases
New Delhi, May 8
On several occasions in the past five years, the University Grants Commission (UGC) violated established guidelines to recommend deemed university status for certain institutions. In many cases, the UGC even ignored the expert committee and state government recommendations to declare a favoured institution as "deemed".
UNION BUDGET 2010-11
RAILWAY BUDGET
2010-11
NDA 60 Glorious Years
1857 The First Challenge
E - Revolution 2005:
A Two-day IT conclave
Assembly Elections - 2005
Turbans
Chandigarh is 50
125 Years of The Tribune
India: The Tasks Ahead
India at Sixty
A Tribune Supplement
EARLIER FEATURES
On Sundays
On Saturdays
8 jawans die as Naxals blow up CRPF truck
Raipur, May 8
Eight CRPF jawans were today killed when Naxals blew up a bullet-proof vehicle in Bijapur district of Chhattisgarh, the first major attack after the Dantewada ambush which left 76 security men dead a month ago.The Naxalites triggered the IED blast near Pedakodepal village on the National Highway 16 in Bijapur, 284 km from here, and fired at the security personnel, Director-General of Police Vishwaranjan said.
THE DOCTOR AND A CIVIL SERVANT
The Civil Services topper this year shares his love for Urdu and how he made it to the top with EHSAN FAZILI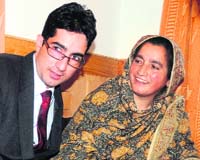 His father was gunned down barely three days before the Common Entrance Test ( CET) for admission into the medical colleges. Traumatised , he still stoically took the exam because his father, himself a teacher, wanted him to study medicine.

Dr Shah Faesal with his mother Mubeena Bano at his home in Srinagar on Saturday. Tribune photo: Amin War

Mukesh wins gas battle against Anil in SC
May 8, 2010
Gallows for Kasab
May 7, 2010
No lie detector tests: SC
May 6, 2010
Kasab's head, nothing less, says prosecution
May 5, 2010
Verdict out, Kasab guilty
May 4, 2010
Gill applies brakes on tenure of Kalmadi & Co
May 3, 2010
Bottlenecks for access to Headley cleared
May 2, 2010
2 CRPF jawans held for selling arms to Naxals
May 1, 2010
Summit leads to thaw in Indo-Pak ties
April 30, 2010