Tourists enjoy a shikara ride in the Dal Lake in Srinagar on Sunday. Photo: Amin War
Census from May 15
Srinagar, May 9
The first phase of Census 2010 will start from May 15 to June 30 in respect of accessible areas, and from July 16 to August 30 for other areas in the state.The field machinery for the operations has been drawn from the state government and their appointment orders have been issued by the respective district administration.
Governor felicitates IAS topper
Srinagar, May 9
Governor NN Vohra felicitated the Civil Services topper, Dr Shah Faesal, at Raj Bhavan here today.The Governor had also invited Dr Faesal's mother, Mubeena,who is a school teacher, to Raj Bhavan. Vohra and First Lady Usha Vohra greeted the IAS topper and his mother and said the outstanding achievement of the bright young man, hailing from a remote village of Kupwara district, had made the state proud.
Turning waste paper into artistic masterpiece
Vijaypur, May 9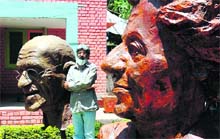 In a village like Birpur here that sans even a primary health centre whereby the snake bite victims die on way to the hospital, everyone was overjoyed over the presence of three Cabinet ministers and top brass of the police and the local administration today.


Sculptor Ravinder Jamwal with the busts of Mahatma Gandhi and the late Prime Minister Indira Gandhi at his home in Birpur. Tribune photo: Anand Sharma

Omar to address ex-servicemen on May 11
Jammu, May 9
Chief Minister Omar Abdullah will address a rally of ex-servicemen of the Jammu region at Nagrota on May 11, being organised by the White Knight Corps in Sainik School, Nagrota. Omar will be the chief guest. He is also likely to interact with mediapersons during the event.
Case record file for thalassemia patients
Jammu, May 9
Minister for Medical and Technical Education, Youth Services and Sports, RS Chib released a registration and case record file for the thalassemia patients registered with the thalassemia daycare unit of the Department of Pediatrics, Government Medical College, here yesterday.
Attack on Chairman
Poonch Front flays police inaction
Jammu, May 9
Leaders of the Rajouri- Poonch United Front have condemned the attack on the front chairman, Anam Choudhary, on May 2 at Rajouri.They also criticised the police for not arresting the suspects.
Natrang stages 'Rehearsal'
Jammu, May 9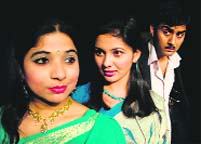 Natrang in its weekly theatre show staged a comedy play 'Rehearsal' written by Satyendra Shart and directed by Balwant Thakur.The play is based on the life of Malti - a theatre actress. One day, she receives a call that she is being considered for the lead role in a film to be produced by a Bollywood blockbuster producer and was further advised to wait at her place as the producer or his representative may call her for contract formalities.

A scene from the play, 'Rehearsal', staged in Natrang's weekly show on Sunday in Jammu. A Tribune photograph

Painting contest on environment held
Jammu, May 9
To sensitise young students about protecting the environment, the Udhampur-Reasi Range Police and Civil Defence Organisation jointly organised an inter-school painting contest on the premises of Shivalik College of Education here today.
Panun Kashmir holds annual meeting
Jammu, May 9
The Panun Kashmir led by its president Ashwani Kumar Chrungoo organised its 20th Annual General Meeting here today.
Helicopter crashes, four Army men hurt
Srinagar, May 9
A helicopter carrying army personnel crashed in Leh district today,injuring four army personnel.
Boys from Bal Ashram, RS Pura, visit the Air Force Station on a motivational tour organised by the Social Welfare Deparment, Jammu, and the Air Force Station, Jammu, on Sunday. A Tribune photograph
IAF evacuates injured cop
Jammu, May 9
The Indian Air Force (IAF) yesterday evacuated a policeman in Reasi district of Jammu.
2 grenades seized
Jammu, May 9
Two grenades were seized from the Chowadi area, near Sainik Colony here, today, the police said.
'Implement ban on pvt tuitions'
Jammu, May 9
Activists of the Jammu Joint Students' Federation (JJSF) today appealed to the Education Department to honour the court order issued in 2005 by implementing a complete and effective ban on private tuitions conducted by government teachers.
Govt faces many challenges
Srinagar, May 9
The Darbar which functions in Jammu for six months will resume functioning here tomorrow.
Mother's Day
Widow's tale of endless struggle
Srinagar, May 9
It is Mother's Day today but it hardly makes a difference to Shubeena Akther (name changed). For her, it is just another day of struggle to make both ends meet.
Conserve water resources: Minister
Srinagar, May 9
Minister for Public Health Engineering, Irrigation and Flood Control Taj Mohi-ud-Din has stressed upon all the engineers to utilise their potential in conserving the water resources of the state.