Rival groups clash in Burail, shot fired
Chandigarh, May 11
Tension prevailed in Burail village this morning after a group of armed youths, including some students of Panjab University and SD College, Sector 32, allegedly attacked two shopkeepers and fired a shot in the air. The victims scurried for cover with the assailants chasing them in the streets of Sector 45A triggering panic in the locality.
PGs in Mohali may have nowhere to go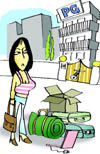 Notices to 216 persons using their premises illegally
Mohali, May 11
Hundreds of those staying in paying guest (PG) accommodation might soon find themselves on roads as GMADA has issued notices to owners of 216 illegally running PGs here. Those running the PGs have been asked to either shut these down or apply as per the approved policy. In 2007, GMADA had approved its PG policy on the lines of the policy being followed by the Chandigarh administration. The area of the house for PG accommodation should not be less than 150 sq yard and the owner should occupy part of it.
IT park mess back to haunt UT
Chandigarh, May 11
Alleged irregularitises in land allotment to certain IT giants in the IT park are under the scanner of the ministry of home affairs (MHA) again.
Duststorm fails to bring relief
Chandigarh, May 11
Yesterday's duststorm followed by traces of rain late in the evening failed to provide any respite from the hot weather to city residents.
Contractual staff to get maternity benefits
Chandigarh, May 11
In what could be termed as a violation of the Supreme Court's order and the Punjab Civil Services Rules, the UT administration has been denying maternity leave benefits to hundreds of women working on contract with it.
Jan Ahaar to tickle passengers' taste bud
Rly station to have restaurant offering food at subsidised rates

Chandigarh, May 11
Train passengers can now relish delicious food at subsidised rates as the authorities will soon come up with a restaurant - Jan Ahaar - at the Chandigarh railway station. Passengers will just have pay between Rs 10 and Rs 35 for food at the restaurant that will remain open round the clock.
Mohali MC to maintain parks
Mohali, May 11
The Greater Mohali Area Development Authority (GMADA) today decided to hand over the maintenance of all 450 parks in the city to the municipal council. The authority will transfer funds required to maintain the parks.
Arrangements reviewed, traffic restrictions imposed
Mohali, May 11
Director General of Police, Punjab Police, PS Gill today reviewed security arrangements at Chappar Chidi in the wake of the "Fateh March" that is scheduled to arrive tomorrow.
R&D, planning must strike balance: Expert
Chandigarh, May 11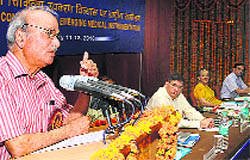 Stating that a judicious balance between R&D and strategic planning was necessary to overcome international challenge in the scientific field, former director-general of Council for Scientific and Industrial Research (CSIR), Prof SK Joshi stressed upon the appropriate strategy for marketing technology and products.
Former director-general, CSIR, SK Joshi addresses delegates at 'National conference on emerging medical instrumentation' at CSIO in Chandigarh on Tuesday. Tribune photo: S Chandan
FS misled us, allege caterers
Chandigarh, May 11
UT Finance Secretary Sanjay Kumar has been blamed for "consciously" making "misleading and incorrect averments" in the "sky event" case.
Ghazal soiree mesmerises audience
Chandigarh, May 11
The Sham-e-Ghazal programme organised by the Pracheen Kala Kendra at their complex featuring eminent architect, academician, musicologist and Urdu poet, Dr SS Bhatti, proved to be more informative and educative than entertaining.
Chhat Bir gets male jaguar
Zirakpur (Chhat), May 11
The Chhat Bir Zoological Park received a male jaguar, "Shrey", from the National Zoological Park, Delhi, here today.
Suspected dengue case reported
Chandigarh, May 11
The first suspected dengue ?case of the season was reported here today with 20-year-old Pooja of Sector 26 being admitted to the GMSH-16 with symptoms of the disease.
Dr Nirankari cremated
Chandigarh, May 11
Dr Man Singh Nirankari, former principal of Amritsar Medical College, passed away today morning. The famous eye surgeon, Dr Nirankari, was born in 1911.


Deferred exams leave students upset
Chandigarh, May 11
The Panjab University administration's decision to postpone about 94 examinations scheduled between May 12 and May 14 at the "request" of the Shiromani Gurudwara Prabandhak Committee (SGPC) has left hundreds of students fuming over the sudden change in the exam schedule.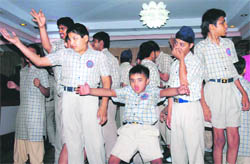 Mentally challenged children at a dance party organised by the owner of a restaurant at Sector 35, Chandigarh, on Tuesday. Tribune photo: S Chandan
Right to Education Act
Suggestions for better implementation given
Patiala, May 11
A delegation of Adhyapak Dal, Punjab, led by president Hardev Singh Jawanda met director-general of school education, Krishan Kumar, regarding the pending demands of teachers at Chandigarh. Jawanda informed that the meeting was held with an aim to inform the authorities regarding the demands of the teachers and also to give suggestions for the better implementation of the Right to Education Act.
CBSE renews affiliation to AKSIPS
Chandigarh, May 11
In what has come across as a major relief to Ajit Karam Singh International Public School (AKSIPS), Sector 41, the Central Board of Secondary Education (CBSE) has renewed the school's affiliation up to senior secondary level till 2015.