"I will give the UPA zero out of 10"
"The CBI was misused to defeat our cut motion in the Lok Sabha"
by Raj Chengappa, Editor-in-Chief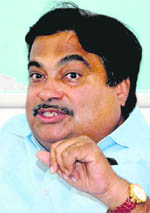 It's been six months since Nitin Gadkari, 52, took over as President of the Bhartiya Janata Party with the expectation that he would herald a new order and a new generation of leaders. While he did revamp the office-bearers and brought in new faces, criticism came in thick and fast from various quarters. Some accused him of spending too much time in Mumbai, the capital of his home state, and not enough at the BJP headquarters in Delhi. Others said that while he preached a moderate face of the BJP his vociferous support for Gujarat Chief Minister Narendra Modi and propping up off Varun Gandhi had given him more of an image of being a hardliner. There was also scorn over his call for auditing the performance of his colleagues. In Chandigarh to kick off his state visit to Punjab where the BJP shares power with the ruling Shiromani Akali Dal, Gadkari in an exclusive interview with Editor-in-Chief Raj Chengappa at The Tribune office answered questions on a range of issues. Both in the interview and his interaction with The Tribune's senior editorial staff soon after that, the BJP chief took pains to stress that his focus was on development and he did not want to indulge in politics on key issues. Excerpts:
India should not hold talks with Pakistan - our party is against it. The UPA government is repeating a big mistake. Pakistan has done nothing to end cross-border terrorism.
It is now six months since you have taken over as President of the BJP. What has been your main focus?
The main achievement for me is to increase the morale of the workers and we have been organising conferences apart form holding agitations on price rise to do this. Because of these programmes the morale of our workers is very high. Now they are in a mood to fight against the government over the price rise.
But you were expected to usher in a whole new order in the BJP.  What is that change you are talking about?
Actually, it is an evolving process.  I have got people from the new generation into my team. It's a good team now. The mood of our leaders, workers and supporters is positive.  I feel that there is an opportunity for our party to increase its mass base. We have targeted that we have to increase our vote bank by 10 per cent and our priority is to concentrate on Scheduled Castes, Scheduled Tribes, minorities apart from professors, doctors and the intellectual class. We have to work in the unorganised labour sector too. We want to concentrate more on Tamil Nadu, Kerala, West Bengal, Andhra Pradesh and Haryana and in these states we have to increase our mass support.
On Naxalism it is no use the Centre or the states blaming each other. They should jointly fight this major menace to the nation.
The way your party has performed in the Lok Sabha leaves a lot to be desired – the cut motion failed and overall its role as an Opposition hasn't been a success?
The cut motion has exposed the other opposition parties. Particularly, Mayawati's BSP, which though it spoke something else supported the UPA government. As did Mulayam Singh Yadav and Lalu Prasad Yadav.  When we started the war against price rise, they were with us.  By the time of the cut motion, they withdrew. I feel bad.  The most important and trusted ally of the UPA was the "Congress" Bureau of Investigation (CBI); the CBI was misused and because of the CBI, Mulayam Singh Yadav, Lalu Prasad Yadav and Mayawati,  reached a deal with the UPA.  It is very unfortunate.  By using the CBI, political blackmailing was there. This is not politics based on moral values.  This is political blackmailing. And I feel this is very bad for Manmohan Singhji and Soniaji.
The UPA
has no guts to carry out the verdict of the court either in Afzal Guru case or in Kasab. It must move swiftly on the death sentence for Kasab
Well in Jharkand you are accused of doing much the same thing. Your party has flip-flopped over its support to the JMM – you condemned Shibu Soren but now you are willing to form a government with his party?
The Jharkhand political situation is a very different.  The problem is that if we withdraw support, there will be President's Rule in Jharkhand.  Whatever happened in Parliament about the Shibu Soren case and the way the CBI is used was there for everyone to see. In the wider interest of a stable government and the development of Jharkhand, we will not allow the Congress to play its dirty game by using their money and muscle power. In that situation, we have taken this decision to retain the government.
Your party seems to be losing its focus. What's the ideology that you are espousing?
As far the BJP is concerned, we have a clear ideology. My feeling is that the country needs politics for development and politics for progress and it is related with our nationalism. We have a feeling and commitment that we have to make this country economically strong, the super-economic power in the world. That is the commitment which we have. And for that purpose, nationalism is our thinking.
What about the Ram Mandir issue – what's your stand?
When people ask me about the Ram Mandir, I explain to them the position of our party. Whatever decision taken by the party, it is already there. I am not going to change anything. I do not think it is a BJP issue. It should not be made a political issue. The issue is related with the aspirations of lakhs and crores of people of India so it should be resolved through consensus. 
You are projected as a moderate but you are also charged with following a hardline Hindutva course. Where do you stand?
I am a nationalist. As far as Hindutva is concerned, I request you to refer to what is the definition of Hindutva. The present judgement given by the Supreme Court explains it as a way of life. And I feel that if you refer to Vivekanandaji, then only we can understand exactly what is the definition of Hindutva.  The broad meaning of Hindutva  is related with good governance, tolerance and recently the way Supreme Court clarified the meaning of Hindutva, that is important.
You  have come out in vociferous support of Narendra Modi who is seen as the face of hardline Hindutva?
Why blame only Modi – there were riots after the 1992 blasts in Mumbai. What happened to Delhi in 1984? Modi is a model of development. The agriculture growth rate in Gujarat is 14% and the per capita income and GDP of minorities in Gujarat comparing to the country is very high. We are not anti-Muslim. We are anti-terrorists. My feeling is that the way Gujarat cases are projected in a section of media, it is injustice to Narendra Modi and the BJP government.
Are you still advocating that Modi should be the next Prime Minister?
Actually when I was asked whether Narendra Modi had the potential of becoming a Prime Minister  I said, yes, he has the potential. But as far as our party's policy is concerned, our highest body is our Parliamentary Board. And we have a lot of people who are competent.  At that time, our party will decide who should be the Prime Minister.
What is your party's stand on the question of khap panchayats and honour killings?
I want to discuss this issue with our party office-bearers in Haryana before I say anything about it.
How is your party's alliance with the Akali Dal in Punjab doing?
We have a good relationship with the Akali Dal. A month before there was a big function in Amritsar and I met with Prakash Singh Badal sahib and discussed many things with him. There are no problems, even if some arise we can solve them.
Coming to the Centre, the UPA will be completing a year in its second term soon. What is your assessment of its policies?
As far as economic policies of the UPA govt. are concerned, the price rise is a big problem. The current inflation rate of 11 per cent is very high whereas in other countries like Singapore and Thailand it is less than 2 per cent. As per the latest Planning Commission report, 40 per cent population of the country is still below poverty-line. Is this garibi hatao ? This UPA government is totally anti-farmer, anti-poor and anti-villager. As far as internal and external security is concerned this government has totally failed in terms of controlling terrorism and Naxalism.
So how would you rate the UPA's performance on a scale of 10?
I will give this government 0 out of 10 for performance and 10 out of 10 for corruption?
What is the stand of your party about talks with Pakistan?
India should not hold any talks with Pakistan – our party is against it. The talks will have no relevance as Pakistan has done nothing to end cross-border terrorism. By resuming talks with Pakistan the UPA government would be repeating a big mistake.
What's your opinion about the way the UPA handled the Mumbai 26/11 investigation and on Kasab's prosecution?
This government is always talking big, but it has no courage to fight terrorism. The government has no guts to carry out the judgment of the Supreme Court which awarded the death sentence for Afzal Guru. It must now move swiftly on Kasab's verdict and act on it. See how promptly the US handled the Headley issue. Why is our government waiting? I do not understand. It the duty of the government to take a decision on the matter urgently.
But the Bharatiya Janata Party didn't do much either when it was in power. Look at the way it handled Kargil, Kandahar and the attack on Parliament?
The BJP handled everything promptly. It did not allow any terrorist-related case to linger on and atleast it completed all investigations and brought people to book.
The BJP is in power in Chhattisgarh and yet the Dantewada massacre happened? Are you blaming the Centre too for not tackling Naxalism? 
It is no use blaming each other.  Instead it is time both the Centre and the states came together to jointly fight Naxalism which is already causing great harm to our country.
What have you learnt in six months as President of the party?
It has been a good experience for me. Although I am a junior person in the party, I have been getting good cooperation from my senior leaders. So, I am feeling comfortable now
How are your relations with Advaniji? Does he big brother you?
Almost everyday I meet Advaniji and there is good cooperation from Advaniji. Advaniji and Atal Bihari Vajpayeeji are a role model for us.  As far as I am concerned, I have tremendous regard for Advaniji and Vajpayeeji, who always support me.
You are considered close to the RSS? Do they interfere in party affairs?
I am definitely an RSS person and I do not hide anything. But the RSS never interferes in our affairs.
There is criticism from some sections of your party that as President you spend most of your time in Mumbai?
It is totally false. In the past six months I have spent barely six days in Mumbai where my family lives. I have travelled across the country. And my work begins from 7.30 am until late at night.