Tax Advice
No sales tax on rental income
by SC Vasudeva
Q. In the column dated 01.05.2010, R.K. Gupta submitted the facts as under:
1. Already rented property to four tenants @ 5000/- = Rs 20,000 p.m.
2. Wants to rent another two floors @ 1,00,000/- p.m. (Excluding sales tax)
3. Now he has apprehension that the service tax is leviable.
Your reply:- Finance Bill,2010, proposes to amend the definition in retrospective from June 1, 2007 by expressly providing that the activity of renting is a taxable service. Accordingly, service tax would be payable on the aggregate amount of rent.
But my C.A has different view." There is "Laxman Rekha" at Rs 10 lakh. In case you cross this line of Rs 10 lakh in your receipt of rent then service tax is to be paid not otherwise. I had been filing my return of around 2 lakhs rent income for the last so many years with no liability of service tax.
Please advise:
1) Whether I should get myself registered for service tax, through online service.
2) All my family members who have some rental income should get a separate registration done. Or they can pay the service tax through my registration number.
3) Is sales tax also involved in renting out a premises?
— Nripander Parkash Khanna
A. Your queries are replied hereunder:
(i) The threshold limit for payment of service tax is Rs 10,00,000. However, every provider of a taxable service whose aggregate value of taxable services in a financial year exceeds Rs 9,00,000 has to mandatorily obtain registration.
(ii) The registration, if applicable, will have to be in the name of the service provider.
(iii) Sales tax is leviable on sale of goods. No sales tax would be leviable on renting of premises for commercial purposes.
It may be added that the reply to Mr. Gupta's query was based on facts of his case as his rental income exceeded Rs 10 lakh.
Senior Citizen
Q. Kindly advise whether for senior citizen exemption limit of income tax for assessment year 2010-2011 is Rs 2,50,000 or Rs 2,40,000.
— S. Chand
A. The exemption limit in the case of senior citizen for assessment year 2010-11 is Rs 2,40,000.
Rebate on royalty
Q. My queries are as under:
(i) How much income received from the royalty of books is tax-free when writing is not the sole profession of the writer.
(ii) I am working as a lecturer in a Govt. College. My income for the assessment year 2010-11 is as under. Kindly compute the income tax payable by me.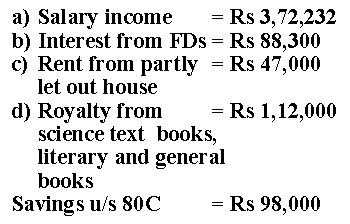 No expenditure has been incurred on the house owned by me.
— Sudesh Kumar Verma
A. The deduction in respect of income from royalty by an author or a co-author is allowable to a taxpayer who is individual resident in India. The amount of deduction allowable is Rs 3,00,000 or income from royalty whichever of the two is lower. It may be added that where income from royalty or copyright fee is not a lump sum in lieu of all rights in the book, so much of the income (before allowing expenses attributable to such income) as is in excess of 15% of the value of such books sold during the previous year shall be ignored. In effect it means that rate of royalty in such a case should not exceed 15%.
The deduction is allowable in respect of a book which is work of literary, artistic or scientific nature. However, the term book shall not include brochures, commentaries, diaries, guides, journal, magazines, newspapers, pamphlets, text books, tracts and other publications of similar nature, by whatever name called.
The taxpayer has to make a claim in respect of the deduction from royalty income. He is also required to obtain a certificate in Form 10CCD from the person responsible for paying such income. Section 80QQB of the Act which deals with these provisions also requires the said form to be attached to the tax return. However, these days on account of electronic filing it is not possible to attach any certificate with the return. Such form should therefore be obtained and kept by the taxpayer so as to produce the same as and when required by the Assessing Officer.
The royalty income earned by you includes royalty earned on general books. Royalty from such books is not to be considered for allowing deduction under Section 80QQB of the Act. Please provide the necessary details without which the tax on your total income cannot be computed.
PPF account
Q. I have a PPF account which has matured in March 2010. My queries are: 1) I have got permanent residency for Canada from June 2009. I am planning to move to Canada from June 2011 and just visit India for short time from time to time.
2) I want to opt for post-maturity extension of my PPF account with no contribution.
3) My PPF will continue to earn interest. I want to know if this interest will be taxable or not. Further, please let me know how often I can withdraw from PPF and how much at one time. Please advise.
— A.M. Singh
A. The Public Provident Fund Scheme 1968 as amended w.e.f. 25.07.2003 provides that in case of a resident who subsequently becomes non-resident Indian during the currency of the maturity period, may continue to subscribe to the fund till its maturity on a non-repatriation basis. The amount of fund lying in your account therefore is to be kept upto the date of maturity period only. It would therefore, be advisable to withdraw the amount after the maturity period.