Obama admn slams Tehran deal
Not enough to stop sanctions: UK
Ashish Kumar Sen in Washington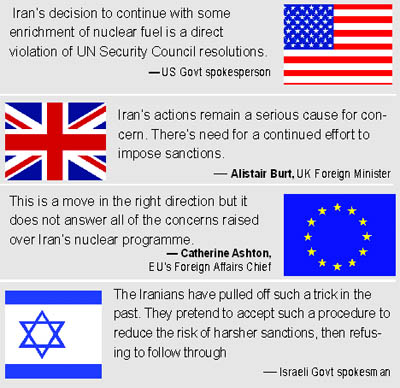 Reacting to the Iran's deal with Brazil and Turkey, the US today pointed out that Tehran's decision to continue with some enrichment of nuclear fuel is a direct violation of UN Security Council resolutions.
A spokesman for the Obama Administration said details of the deal must be conveyed to the International Atomic Energy Agency before it can be considered by the international community. White House spokesman Robert Gibbs said: "Given Iran's repeated failure to live up to its own commitments, and the need to address fundamental issues related to Iran's nuclear programme, the United States and international community continue to have serious concerns."
"While it would be a positive step for Iran to transfer low-enriched uranium off of its soil as it agreed to do last October, Tehran's decision to continue with 20% enrichment is a direct violation of UN Security Council resolutions. The Iranian government originally justified it by pointing to the need for fuel for the Tehran Research Reactor. Furthermore, the Joint Declaration issued in Tehran is vague about Iran's willingness to meet with the P5+1 countries to address international concerns about its nuclear program, as it also agreed to do last October," Gibbs added.
He indicated that the US would continue to work with its "international partners and through the United Nations Security Council, to make it clear to the Iranian government that it must demonstrate through deeds - and not simply words - its willingness to live up to international obligations or face consequences, including sanctions."
"Iran must take the steps necessary to assure the international community that its nuclear programme is intended exclusively for peaceful purposes, including by complying with UN Security Council resolutions and cooperating fully with the IAEA," Gibbs said.
Britain's Foreign Minister Alistair Burt said Iran was not fully cooperating with the IAEA and was going ahead with its uranium enrichment programme. Burt said Iran's actions "remain a serious cause for concern" and he was in favour of a continued effort to impose sanctions. The European Union responded a little more favourably to the deal describing it as a move in the right direction. "This is a move in the right direction but it does not answer all of the concerns raised over Iran's nuclear programme," a spokesman for Catherine Ashton, the EU's foreign affairs chief, said. French Foreign Minister Bernard Kouchner said in Paris the IAEA must be the first body to respond to Iran's agreement.
Germany greeted news of the swap deal with caution. German government spokesman Christoph Steegmans said: "The key question is whether the agreement fulfills the demands that the UN and the IAEA has made of Tehran. Israel criticised the plan accusing Iran of trickery. "The Iranians have pulled off such a trick in the past. They pretend to accept such a procedure to reduce the risk of harsher sanctions, then refusing to follow through," an Israeli government spokesman said.