PUNJAB
HARYANA
JAMMU & KASHMIR
HIMACHAL
REGIONAL BRIEFS
NATION
OPINIONS
LETTERS
BUSINESS
SPORTS
WORLD
Tuesday, May 18, 2010, Chandigarh, India
Updated at 3:00 am (IST)

Dantewada again, toll 36
n 12 SPOs among those killed as Maoists blow up passenger bus
n IED planted on a metalled road and detonated by remote
n Attack comes a day ahead of Naxals' call for 48-hour bandh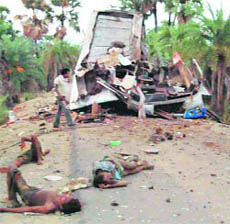 Raipur, May 17
Maoists today blew up a passenger bus killing at least 36 persons, including 12 Special Police Officers (SPOs), in Dantewada district of Chhattisgarh, the attack their second in six weeks.


PC: Need to revisit Maoist policy

5 states on alert

Cong leader killed
Bodies are seen near the wreckage of a bus that was blown up by Naxals in Dantewada district of Chhattisgarh on Monday. — AFP
It's no more guerrilla war: DGP
New Delhi, May 17
The Naxal attack on a bus carrying tribal "Special Police Officers" (SPOs) in Chhattisgarh's Dantewada district has stunned the security agencies here. It has come in quick succession of two major incidents of "red rebels" in the state.
CAST YOUR VOTE
Should the execution of Ajmal Kasab's death sentence be put on fast track?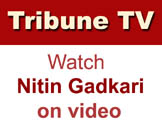 EDUCATION
JOBS & CAREERS
HEALTH & FITNESS
SCIENCE & TECHNOLOGY
REAL ESTATE

SPORTS & WELLNESS

INSIDE IRAN
To duck curbs, Iran ready for nuke fuel swap
By Raj Chengappa
Editor-in-Chief
It's being regarded as a major diplomatic coup that could spell the beginning of the end of the isolation of Iran from world affairs. On the sidelines of the G-15 summit being attended by India, a smiling Iranian President Mahmoud Ahmadinejad, Turkish Prime Minister Recep Tayyip Erdogan and Brazilian President Luiz Inacio Lula da Silva dramatically announced that the three countries had arrived at a deal that could possibly break the nuclear stalemate, stave off sanctions being contemplated by the UN and the US against Iran and bring the contentious issue back to the negotiating table.
| | |
| --- | --- |
| | Iranian President Mahmoud Ahmadinejad (C), his Brazilian counterpart Luiz Inacio Lula da Silva (L) and Turkish Prime Minister Tayyip Erdogan (R) wait for the signing of agreement ceremony during the G-15 in Tehran on Monday. — Reuters |
Obama admn slams Tehran deal
Not enough to stop sanctions: UK
Reacting to the Iran's deal with Brazil and Turkey, the US today pointed out that Tehran's decision to continue with some enrichment of nuclear fuel is a direct violation of UN Security Council resolutions.
UNION BUDGET 2010-11
RAILWAY BUDGET
2010-11
NDA 60 Glorious Years
1857 The First Challenge
E - Revolution 2005:
A Two-day IT conclave
Assembly Elections - 2005
Turbans
Chandigarh is 50
125 Years of The Tribune
India: The Tasks Ahead
India at Sixty
A Tribune Supplement
EARLIER FEATURES
On Sundays
On Saturdays
Punjab okays equal tenancy rights for daughters
Chandigarh, May 17
The Punjab Cabinet today decided to give equal tenancy rights to adult daughters by approving amendments in the Punjab Security of land Tenure Act, 1953 and Pepsu Tenancy and Agricultural Lands Act, 1955.
Monsoon's here!
n Andamans gets first showers
n May reach Kerala before May 30
New Delhi, May 17
The much-awaited south-west monsoon today brought first showers to the Andaman and Nicobar islands, setting the stage for its early progression towards Kerala.


Cyclone warning


82 R'sthan MLAs tied knot in childhood
Jaipur, May 17
Even as child marriages were solemnised in a clandestine manner at various places in Rajasthan on the occasion of Akha Teej (Akshay Tritiya) on Sunday, a glance at the Rajasthan Assembly website reveals that more than one third of the House members' marriage, too, falls under this category.
Bangkok bleeds
May 17, 2010

Jihadis camping in PoK to sneak into India
May 16, 2010

3 Pakistani aides of NY bomb plotter held
May 15, 2010

Centre clears decks for first defence varsity
May 14, 2010

India should not hold talks with Pak: BJP chief
May 13, 2010
Krishna to visit Pak
May 12, 2010
Higher Education Bill hits a bump
May 11, 2010
Chhattisgarh forests death traps: Police
May 10, 2010
BJP wins power tussle
May 9, 2010
Mukesh wins gas battle against Anil in SC
May 8, 2010