New courses on colleges' menu list
Kusum Arora
Tribune News Service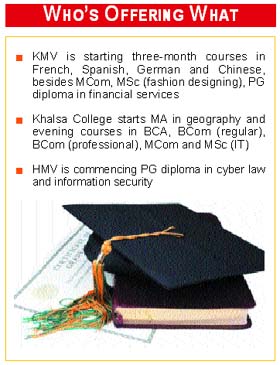 Jalandhar, May 13
With college admissions are going on in full swing, students can explore many more options this academic session. Courtesy: A wide range of new UGC-approved graduate and postgraduate disciplines introduced in colleges.
From foreign languages to cyber laws, fashion designing and postgraduate degree courses the students can opt for a variety skill development programmes, apart from the basic courses in the city colleges. While add-on courses in hospitality, event management and taxation have also been started.
The Tribune takes a look at the new courses in the colleges. For those who have been looking forward to join a language course can get admission in Kanya Maha Vidyalaya as the college is starting three-month courses in French, Spanish, German and Chinese. The college has hired native teachers from the respective countries.
Principal Atima Sharma said the courses had been started keeping in mind the craze of foreign languages among the students. "Last year we introduced French course. The extension in the courses has been done owing to a good response from this NRI belt," she added.
KMV is also coming up with MCom, MSc (fashion designing), PG diploma in financial services, bachelor's degree course in journalism and mass communication. The college is also starting add-on course in hospitality and event management. "We are also all set to start a diploma in cosmetology directly after Class XII," she said.
While those students who were till date forced to pursue a master's programme in geography in other states can now heave a sigh of relief. Lyallpur Khalsa College has become the second institution to start MA (geography). Earlier this course was available in Government College, Amritsar. "We have 40 seats for this course," said Principal Jaspal Singh Randhawa.
The college is also starting evening courses in BCA, BCom (regular), BCom (professional), MCom and MSc (IT) this session.
"We are also starting a UGC scheme - remedial courses for minorities and SC/BC students. The course is aimed at providing English speaking and communication skills.
"This year we have also decided to advertise the UGC-sponsored single girl child scholarship scheme to receive the maximum response," he maintained.
Hans Raj Mahila Maha Vidyalaya is starting PG diploma in cyber law and information security, MSc (fashion designing) and a vocational training programme under which certificate courses in beauty culture, personality development and soft skills would be held in the afternoon. Principal J. Kackeria said, "We are also starting an evening centre for civil services under the Career Development Programme." DAV College is starting MSc in food science and technology, PG diploma in financial services (banking and insurance), PG diploma in baking technology, diploma in baking technology and MPhil in political science, English, chemistry, physics, Hindi and Sanskrit and PG diploma in mass communication and journalism, said Principal V.K. Tewari.
The Jalandhar cantonment-based BD Arya Girls College is introducing MSc in fashion designing, MCom and add-on courses in taxation, basic clinical lab techniques and a special international accountancy course in collaboration with the Association of International Accountants, England. "The classes for this course would be held once a week on Sundays only. The examination would be conducted online and that too at reasonable fee structure," said Principal Sarita Verma.