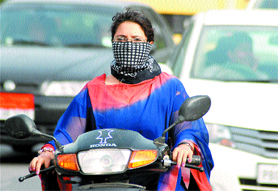 Veiled Beauty: A girl covers her face with a cloth to save herself from the sun and dust in Jalandhar. Tribune photo: Malkiat Singh

Aam Admi ke Sipahi
YC workers conduct checks at BDOs
Jalandhar, April 27
Under the Aam Admi Ke Sipahi programme, district Youth Congress (YC) workers made surprise checks at Block Development Offices (BDO) of Bhogpur and Adampur to check the implementation of various Centre-sponsored schemes yesterday.
INSPIRE to dig out model students
Jalandhar, April 27
With an aim to inculcate scientific temper in the students of government schools across the state, a new innovative programme called "Innovation in Science Pursuit for Inspired Research (INSPIRE)", has been introduced in schools with the assistance of the Department of Science and Technology of the Union Government.
Police goes hi-tech to implement traffic rules
Jalandhar, April 27
A month after the traffic police implemented the strict traffic rules and started imposing on-the-spot fine, city residents have finally started adhering to the new system.
Playing the colour game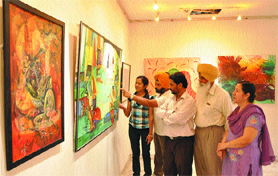 Jalandhar, April 27
Three purple-faced women indulge in masala talk as red chillies fly in the background, a geometrical maiden prays at a temple near a vast expanse of water and another lies down flanked by her two daughters as dolls lay scattered in a room and an Om hangs in thin air.
Other artists watch keenly as Ritu explains her painting 'Dedication' to them at the Virsa Vihar in Jalandhar. A Tribune photo

Punjabi Sahit Academy
Presidency aspirant Gurbhajan Gill reveals plans
Jalandhar, April 27
The panel led by writer Gurbhajan Gill, who is contesting for the post of president of the Punjab Sahit Academy, today announced its agenda for the coming term. Gill said, if elected, his panel would press the government to notify the Punjab Library Act so that each village could set up a library of its own.
Villagers dig up road to reap clay benefits
Phagwara, April 27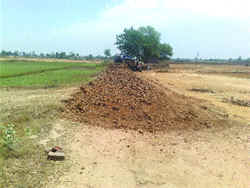 In a scandal "unearthed" here, a few villagers of nearby Pandhwa village were seen digging soil at a link road and reportedly selling it to some private traders at much cheaper rates. After receiving reports of digging of soil on the government road, The Tribune correspondent visited the village and saw a JCB machine engaged in digging the clay and loading it onto a tractor-trailer.
A mound of soil dug up from a link road at Pandhwa village in Phagwara. Photo: Ashok Kaura

First hour is crucial in heart attack: Expert
Jalandhar, April 27
The IMA, Jalandhar, organised a clinical meeting on cardiology and radiology. The meeting was held under the presidentship of Dr Sanjiv Sharma and was conducted by secretary Dr Tarlochan Singh Randhawa. Dr Pawan Suri of Oxford Hospital presented his paper on the importance of primary intervention in an acute heart attack in which he emphasised that time was gold and it was best to perform aggressive intervention in the first one hour of the heart attack since it is crucial.
Eyeing the Iron Man
Hollywood actor Scarlett Johansson fought hard to land a role in 'Iron Man 2' and had to immerse herself in comic books, to impress movie bosses.
Demand for Parshuram chair at Punjabi varsity
Jalandhar, April 27
The Shri Brahmin Sabha, Punjab, has demanded that Bhagwan Parshuram chair should be set up at Punjabi University, Patiala.
Gang selling fake C-forms busted, three held
Jalandhar, April 27
The CIA staff has busted a gang allegedly involved in the sale of fake C-forms to businessmen and was active in different states.
Local Bodies Dept to enjoy network soon
Phagwara, April 27
The Punjab government will soon computerise the entire Local Bodies Department. Talking to newsmen here, Local Bodies Minister Manoranjan Kalia said that all nagar panchayats and nagar councils would be directly connected online with the deputy directors concerned.
District registers increase in wheat yield
Jalandhar, April 27
Contrary to the reports of less yield from other parts of the state, the district has registered an increase of about 30,000 MT as compared to the corresponding period last year.
Biz buzz
e-star electric bike launched
Jalandhar: Lectrix Motors Limited, a venture of Luminous Power Technologies, launched its e-star electric bike here on Tuesday.
Power Tariff Hike
PPCC to gherao PSEB offices after May 7
Phagwara, April 27
The Punjab Pradesh Congress Committee will hold demonstrations at all the district headquarters in the state and gherao PSEB offices after the present Parliament session concludes on May 7 to raise its demand to rollback the power tariff hike in Punjab.
Three robbers arrested
Jalandhar, April 27
The police yesterday arrested three members of a gang of robbers and recovered two .12-bore pistols with four live cartridges and a motorcycle from them. SSP (Rural) Ashish Chaudhary said acting on a tip-off the CIA staff arrested the robbers from the Dalla crossing in Goraya. Four of their accomplices fled.
Professor awarded
Jalandhar, April 27
Dr Vinod Kumar, professor of Hindi at the local Lyallpur Khalsa College was awarded a gold medal for his research paper 'stress and education' during a programme held at the Innocent Hearts College of Education.