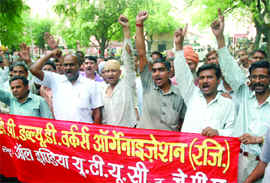 CPWD workers raise their demands in a demonstration outsite Nirman Bhawan in New Delhi on Tuesday. Tribune photo: Manas Ranjan Bhui

3 die while cleaning sewer at Azadpur Mandi
One of the victims is a minor
New Delhi, May 18
Three persons engaged for cleaning a sewer by a banquet hall owner in the Adarsh Nagar area were killed after inhaling poisonous gas today afternoon. According to information, the incident took place around 1.30 pm near Badhai Banquet Hall at G T Karnal Road in the Azadpur Mandi area.
Medical facilities in fine fettle thanks to CWG
New Delhi, May 18
The Commonwealth Games (CWG) has come as a boon for the Delhi's healthcare system as the medical facilities have gone in for a major upgradation - quantitatively as well as qualitatively - and they would remain in place even after the sporting extravaganza is over.
Vocational subject students not preferred in DU colleges
New Delhi, May 18
Students with one or more vocational subjects in their senior secondary examinations might face tough time getting admission to Delhi University (DU) colleges.
2 labourers killed as truck turns turtle
New Delhi, May 18
Two labourers were killed while one was critically injured when a loaded truck they were sleeping in turned turtle after the ground beneath it caved in at Moti Bagh of south Delhi this morning.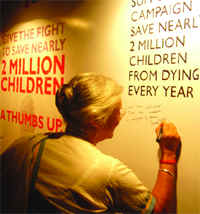 Chief Minister Sheila Dikshit takes part in 'Save the Children' programme at her residence in New Delhi on Tuesday. Tribune photo

Sajjan given time to reply
New Delhi, May 18
A Delhi court today gave time to Sajjan Kumar, the key accused in two cases relating to the 1984 anti-Sikh riots, to reply to an application filed by the CBI as there was some typographical error in the court's order on framing of charges.
Semester: DU teachers meet VC
New Delhi, May 18
Accepting Delhi University (DU) vice-chancellor Deepak Pental's invitation, Academic Council members today met him at his office.
DDA gets HC rap over shelters for mentally ill
The bench was hearing a public suit by a DU law student
New Delhi, May 18
The Delhi High Court on Tuesday pulled up the Delhi Development Authority (DDA) for delaying the construction of shelters for mentally ill people who are found abandoned on the streets.
Wanted inter-state criminal nabbed
New Delhi, May 18
The Kamala Market police has nabbed an inter-state criminal wanted in several dacoity cases across UP and Uttarakhand from the Shradhanand Marg area, the city's expansive red light area. The accused, Harish (22), was arrested yesterday.
10 killed, 12 hurt in 3 accidents
Ghaziabad, May 18
Ten persons were killed in three road accidents in Sahibabad, Pilkhua and Bulandshahr on Monday. Four persons, including two children, were killed in accidents in Sahibabad, four at Pilkhua in Ghaziabad district and six in Bulandshahr. About 12 people were injured in these accidents.
Greenpeace to survey Mayapuri today again
New Delhi, May 18
Greenpeace, an environment NGO, will conduct its second survey in Delhi's Mayapuri scrap yard tomorrow after it discovered high radiation levels in the area last week.
Fires at Metro station, scrap shop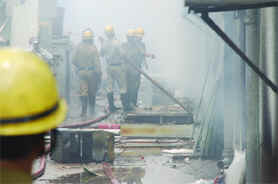 New Delhi, May 18
Two incidents of fire, including one in the control room of a Metro station in west Delhi, were reported in the national Capital today. According to fire officials, in the first incident, a fire broke out in the air-conditioner of the control room of the Janakpuri East Metro station around 10.10 am.
Firemen at work in a factory at Okhla Industrial Area in New Delhi on Tuesday. Tribune photo

Home kids need better care: Walia
New Delhi, May 18
Calling for a need to make the Juvenile Justice Act more relevant to the interests of crime-trapped children, Delhi women and child development minister Kiran Walia today recommended some concrete ways for effecting a more helpful environment for children kept in Observation Home for Boys (OHB).
Maoist couple denied bail
New Delhi, May 18
A city court today dismissed the bail plea of a couple arrested for allegedly being the members of banned terror outfit, CPI (Maoist).
Street plays to spread awareness on Metro system
New Delhi, May 18
Delhi Metro is organising street plays in the areas along the entire Inderlok to Mundka corridor from today onwards to raise awareness about various aspects related to the Metro system such as the importance of yellow line on the platforms, use of escalators and advantages of smart cards.
Revamp of Jama Masjid begins
New Delhi, May 18
The Municipal Corporation of Delhi has begun the first phase of the redevelopment work of Jama Masjid, which includes the cleaning up of the area .
CM backs drive to reduce child mortality
New Delhi, May 18
Delhi Chief Minister Sheila Dikshit pledged her support to "Save the Children's" five-year campaign to prevent the deaths of children under the age of five.
3 held for stabbing, robbing
New Delhi, May 18
With the arrest of three men— Naveen (23), Pawan (19) and Rahul (19), the north district police has busted a gang of robbers involved in stabbing and robbing a Manipur resident on May 10.